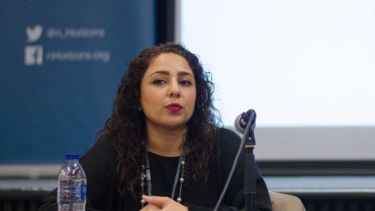 Storying Relationships: What we can and can't talk about
British Islam Conference
23 - 24 February 2019
New Inn Yard, London
---
During one of our Storying workshops, after several weeks of writing and creating stories centred around love and relationships, Noura a 28-year-old female posed this question to the group.
"Do women feel like we can go Fifty Shades of Grey after this or do we just stick to what we know?" 
This question came to form the basis of Dr Nafhesa Ali's talk at the British Islam Conference in London, where she asked the following questions:  
What topics can we really look at?
Write about?
Speak about?
The uncomfortable silences and pauses
What continues to be forbidden?
Several themes were drawn out in the conference and included themes on boys/men, marriage, fiction writing, vulgarity and being PG-Rated.
Nafhesa concluded with some thoughts from one of our published authors who convened a Storying Workshop series with young Muslim women in Glasgow.
So there's a thing where talking about writing, nothing should be off limits, nothing should be taboo, nothing should be - you can't write about that; why? Challenge it! Safina Mazhar, author of Power of Four book series.
The challenges then are visible, and despite many young Muslims' exploring relationship themes in creative writing and storying, many still felt that they had to remain PG-Rated within their writing; unable to cross certain boundaries drawn out by culture and or religion. However, others suggested that creative writing "is not real" and that there are ways in which these boundaries can be crossed. As Safina said, "nothing should be taboo".
Creative writing and storying is, therefore, a valuable tool, which can be used to explore sensitive issues, but also allow minority groups, and others, to explore themes which may be deemed as unacceptable, through fiction and storying. The project will continue to explore these nuances with community engagement talks and training workshops from May-November 2019. If you would like more information or would like to invite us to host a workshop for your group or organisation, please email Dr Nafhesa Ali on n.ali@sheffield.ac.uk.
Events at the University
Browse upcoming public lectures, exhibitions, family events, concerts, shows and festivals across the University.