Guest speaker: Sufiya Ahmed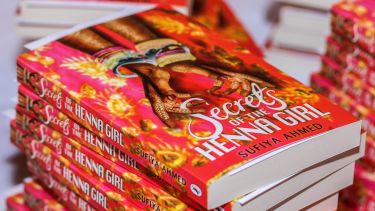 The Storying Relationships project is pleased to say that Sufiya Ahmed author of Secrets of the Henna Girl has been confirmed as our guest speaker at the Glasgow Women's Library celebration event in September 2018.
In Sufiya's book, Secrets of the Henna Girl, Sufiya writes about Zeba, a 16-year old girl who has dreams about enjoying her teenage years, waiting for exams and one-day finding love. Her parents, however, have different plans and Sufiya explores the themes of forced marriage with the character of Zeba and her own dreams and aspirations, whilst torn between family and honour. 
For many Pakistani Muslims the themes of marriage and forced marriage is a common theme and topic of discussion, added to notions of challenges within a forced marriage experience. Sufiya tactfully explores these themes without losing the harsh reality of the difficulties and challenges faced by young people who encounter these experiences.
At the celebration event, we will be exploring themes of love and relationships with young British Muslims. Guests will also have the chance to listen to some of Sufiya's work such as extracts from Secrets of the Henna Girl and ask questions around Sufiya Ahmed's writing and work.
During the celebration event, we will explore a range of experiences around love and relationships from young British Muslim women; happy experiences such as love, dreams and aspirations in love, but also the experiences of pressure and cultural and religious challenges in love and relationships for young people.  
Join us at the Glasgow Women's Library on Saturday 29 September 2018 to welcome Sufiya Ahmed to celebrate young British Muslim women's creative writing.
To book your place, email Dr. Nafhesa Ali n.ali@sheffield.ac.uk.
Events at the University
Browse upcoming public lectures, exhibitions, family events, concerts, shows and festivals across the University.