Gill is an outstanding ambassador for equality in academia and is the University's senior LGBT+ champion.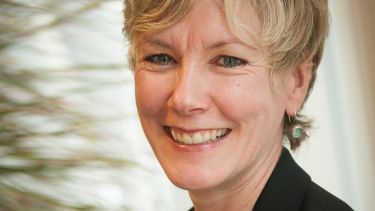 Provost and Deputy Vice-Chancellor
In 2017 Gill won the national Excellence in Diversity Award in the category of Diversity Champion in the Education Sector and was also recognised by colleagues for her contribution to the life of the University through the Portrait of a Woman initiative.
Promoting equality also influences Gill's world-leading research. She has won the highly regarded Royal Geographical Society/Institute of British Geographies Murchison Award for her work on the geography of difference, equality and diversity and the RGS/IBG Gill Memorial Award for contributions to Geography and gender, as well as a Philip Leverhulme prize for high achieving scholars and a Sage prize for innovation and excellence.
Gill champions LGBT staff at all levels of the institution and undertakes a number of activities in order to raise the profile of LGBT equality. This work has contributed to the University being ranked as a top 100 employer in Stonewall's Workplace Equality Index. Her achievements are outstanding.

Portrait of a Woman award

Words from Gill's colleagues
In her career to-date Gill has won research grants worth over £5 million, including a prestigious European Research Council Advanced Investigator award, and has published 17 books and over 170 articles. Gill is a Fellow of the British Academy, a Fellow of the Academy of Social Sciences and plays an active role in both her discipline of Geography and wider social science communities.
Prior to taking up the role of Provost and Deputy Vice-Chancellor, Gill was inspirational in her role as Head of the Faculty of Social Sciences. She developed a leadership team who defined a set of interdisciplinary thematic priorities for the Faculty, quadrupled its research income, produced creative innovations in learning and teaching and developed a set of strategic international partnerships aligned with funding priorities.
Gill returned to the University of Sheffield in September 2012 having previously worked here from 1994 to 2004 as a lecturer, senior lecturer and professor in the Department of Geography. In between Gill was Head of the School of Geography at the University of Leeds where she also served as Director of the Leeds Social Science Institute. In addition, Gill has held academic posts at the Universities of Manchester and Reading. Before settling into an academic career Gill trained as a journalist, working for Haymarket Publications and BBC Wales.
Gill's research interests are focused in three interconnected areas: diversity and social inclusion; childhood, parenting and family life; and urban cultures and consumption. Although she trained as a geographer, much of Gill's work has been interdisciplinary involving collaboration with social science colleagues from Departments of: Education, Sociology and Social Policy, Information Studies and Theology and Religious Studies. Gill has held international visiting fellowships at University of Sydney, Australia and University of Otago, New Zealand and has served in a number of international advisory roles including, for example, as a member of a Quality Assurance Netherlands Universities (QANU) research assessment committee and as an external assessor for the Royal Irish Academy Gold Medal.