Professor Susan Fitzmaurice
Susan is Chair of English Language in the School of English and was previously Head of the School. An internationally regarded scholar of English Historical Linguistics, she leads the collaborative research Linguistic DNA project funded by the AHRC.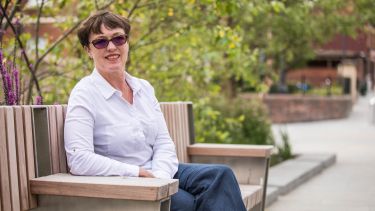 Vice-President and Head of the Faculty of Arts and Humanities
Professor Fitzmaurice has been at the University since 2006. She was previously at Northern Arizona University where she was Professor of English and Head of Department, and then Dean of the College of Arts and Letters until December 2005. From 1987 to 1995 she was University Lecturer in English and Fellow of St. Catharine's College, Cambridge, and from 1984 to 1986, she was Lecturer in Linguistics at the University of Cape Town.
I am pleased and honoured to be appointed as interim VP and Head of the Faculty of Arts and Humanities. Taking on this role at a time of change and challenge is an excellent opportunity to lead the positive creative contributions of Arts and Humanities to the work of sustaining and supporting the resilience of our University research and learning community.

Professor Susan Fitzmaurice
She serves on the Council of the Philological Society as the Society's Honorary Secretary for Publications (Monographs). She co-edits the Journal of Historical Pragmatics with Professor Dawn Archer. She is also a member of the editorial board of the Cambridge University Press Studies in English Language series, a founder editorial board member of the Journal of Historical Sociolinguistics, and a member of the AHRC Peer Review College.