Applications for PhD scholarships will be listed on this page when they are announced.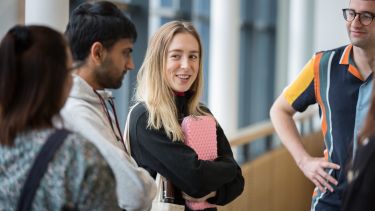 White Rose Social Sciences Doctoral Training Partnership Studentships 2021/22
Nominations are now closed for White Rose Social Sciences Doctoral Training Partnership (WRDTP) Studentships this year.
If you have any questions about scholarships please see our postgraduate research scholarships FAQs or email pgr-funding@sheffield.ac.uk.
You are also required to complete a separate Scholarship application through our PhD application system. Visit the Universities PhD scholarships page to find out how to apply.
ESRC Economic and Social Research Council

The wider impact of 'freeport' tax secrecy facilities in the EU

Supervisor: Professor Rowland Atkinson

Tax havens enable global flows of capital to avoid or evade tax, but we know much less about the role of other spaces that exist 'onshore' but which have similar functions - freeports. Freeports are warehouse facilities that operate as tax-free zones within a national boundary.

They are used to store valuable items including artworks, wine, diamonds, precious metals, cars and arms. We know very little about these spaces, how they operate and their implications as infrastructures that enable tax avoidance and illicit activities, including their facilitation of criminal activity.

This project will build interdisciplinary capacity through doctoral research examining these complex jurisdictions. The main aim of the project is to offer an empirically grounded analysis of the wider economic and social impacts of freeports.

ESRC White Rose Doctoral Training Partnership (DTP) and Faculty Scholarships

The Faculty of Social Sciences has funding for a number of scholarships. These include ESRC White Rose Doctoral Training Partnership (DTP) and Faculty scholarships through the University Post Graduate Research Committee.

White Rose DTP Scholarships are offered in the following broad areas:

Cities, Environment and Liveability Security, Conflict and Justice Education Childhood and Youth Data, Communication and New Technologies Wellbeing, Health and Communities Sustainable Growth, Management and Economic Productivity Civil Society, Development and Democracy.

In USP, most applications are aligned to the 'Cities, Environment and Liveability' theme. Full eligibility criteria can be found here.

Initial enquiries should be made directly to our Research School Director, Dr Glyn Williams - glyn.williams@sheffield.ac.uk

AHRC White Rose College of the Arts and Humanities

The White Rose College of the Arts & Humanities (WRoCAH) is a Doctoral Training Partnership of the Universities of Leeds, Sheffield and York. It is responsible for the distribution of AHRC-funded doctoral studentships for these universities and for the coordination of a doctoral training programme.

WRoCAH is able to offer around 48 AHRC studentships per year to candidates with a place for doctoral study at the Universities of Leeds, Sheffield or York.

Applicants for an AHRC studentship must have applied for a place of study in an eligible School, Department or Centre and may only apply for funding at one of Leeds, Sheffield or York. The studentship application form and details of how to apply are only available from the WRoCAH website.

China Scholarship Council

This scheme provides academically excellent Chinese students with the opportunity to study for a PhD at the University of Sheffield. The scholarships are supported jointly by the China Scholarship Council and the University of Sheffield.

The Scholarship will cover University Tuition Fees, a grant for living costs and one return flight from China.

Scholarships will be awarded on the basis of academic merit and the fit of the applicant's proposed research programme with Sheffield's identified research priorities:

Health, demographic change and wellbeing Food security, sustainable agriculture and the bioeconomy
Secure, clean and efficient energy
Smart, green and integrated transport
Climate action, environment, resource efficiency and raw materials
The changing world – inclusive, innovative and reflective societies
Secure societies – protecting freedom and security of citizens

Further information about this scholarship and how to apply can be found here.

Commonwealth PhD Scholarships (for high income countries)

Funded by the UK Department for Education (DfE), these scholarships support excellence in UK higher education and sustain the principles of the Commonwealth.

Candidates will be selected based on their potential to lead in the pursuit of global excellence in research and knowledge, as well as academic merit and the quality of their plan of study.

Candidates are advised to read the terms and conditions carefully and to ensure they meet the full eligibility criteria as stated in the terms and conditions. For full details, including eligibility criteria, click here.
As part of the Faculty of Social Sciences you will have access to world class training alongside your doctoral study. The Social Sciences Doctoral Training programme is tailored to your individual needs to ensure you have the right skills you need to develop your research.
The training programme is designed to exceed current UK Economic and Social Research Council (ESRC) training and development guidelines, and gives all our social science PhD students access to ESRC-funded White Rose Doctoral Training Partnership cohort activities, regardless of your source of funding.
Bespoke methods training is designed and delivered through the Sheffield Methods Institute which has world class research expertise in qualitative and quantitative methods. All our students receive interdisciplinary training and experience opportunities via the White Rose Doctoral Training Partnership, and additional discipline specific training is provided in each of our departments.
The amount of fees paid depends on whether you are classified as a home or an overseas student.
Continuation/writing up fee
If you go beyond your normal period of registration (3 years) and require more time to write-up your research, a Continuation Fee is charged instead of a Tuition Fee.
You are required to pay the Continuation Fee at the beginning of your writing up year and will be refunded, on a pro rata basis, if you submit before the end of the 12 month period.
There are a number of additional fees which could apply to you throughout your studies depending on your circumstances. Further information can be found here.
Additional costs
There are no mandatory additional costs that economics PhD students can expect to incur during their course.
During their studies PhD students may want to purchase equipment, present their research at conferences and undertake additional training.
All PhD students within USP are eligible to apply for funding from the departmental postgraduate research support fund to support attendance/presentation at relevant academic conferences.
You may also be eligible to apply to other sources of funding, for example, from the Faculty of Social Sciences.