I wanted to have the chance to travel

Sadie Langdon
University of Waterloo, Ontario
MPlan Urban Studies and Planning
Sadie Langdon spent her third year abroad at a university in Canada, enabling her to travel without taking a break from her studies.
Where did you spend your year abroad?
University of Waterloo, Ontario, Canada.
Why did you want to study abroad?
I wanted to study abroad to have the chance to travel with a close community of friends, with the financial support that the university offer, and without taking a year out of studying.
What were your top three highlights while studying abroad?
Spending Christmas in British Columbia – I visited Vancouver, Victoria and Nanaimo.
Spending time in Banff and Jasper National Parks.
Meeting other exchanges from loads of universities across Europe.  
What would you say to someone who was unsure about spending a period abroad?
I found the first few weeks really difficult with familiarising myself to a new city and new people. I also did not have a normal study abroad experience – due to COVID-19, I only started in-person learning in the February of the second term and there were restrictions until March. Despite all of this, I managed to make great friends, travel loads and I've learnt a lot about myself. I would consider this year abroad a huge personal achievement that has given me so much confidence and independence in all aspects of my life.
It can be easy to assume that a year abroad will be easy-breezy, but in my honest opinion, it can be mixture of some of the best weeks of your life, and other weeks you'll be wanting to come home! But these 'downs' are natural and they make the 'ups' even better.  If you are considering a year abroad, I would say absolutely go for it! – just have an open mind and understand that every host university will offer a different experience depending on their own culture of learning.
I would also highly recommend getting in touch with other exchanges going to your host university from Sheffield – my Sheffield friends were a ready-formed support system and I wouldn't have got through the less-fun days without them!
How do you think your year abroad has helped your studies or future career plans?
The exchange programme in my host faculty offered a lot of flexibility in terms of module choice so I was allowed to choose those that suited my career goals. I took some environment modules, engineering modules as well as my normal urban planning modules. My year abroad tutor Lee Crookes was also really supportive throughout the whole process, not just in helping me choose the right modules for me, but also just in making sure I was feeling settled and having a good time in Canada.
The work culture in Waterloo is very different to Sheffield  –  I have lots of small assignments due every week. Learning new styles of assessments and adapting to new ways of working are really valuable skills that I will take with me for my final year of studies and into the workplace after that.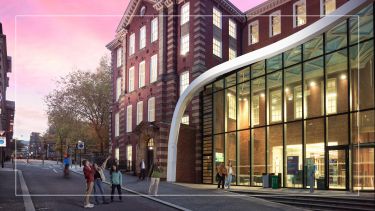 Visit us
Discover what sets Sheffield apart at our undergraduate open days on the Saturday 21 October or Saturday 18 November.