Priority five: Philanthropy
We will launch the University's first multi-million-pound fundraising and engagement campaign, to increase and diversify philanthropic income and help create a sense of belonging and participation amongst our staff, students and alumni.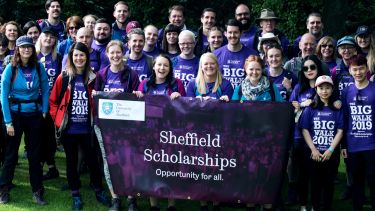 Off
We will:
Significantly increase philanthropic income by 2027 and use it to:

Enrich our students' experience, offering students from all backgrounds the opportunity of a Sheffield education, and developing world-class facilities to maximise the value of our degrees.
Enable the delivery of life-changing research to enhance the world around us.

Conduct a transformational, One University campaign, inspiring students, staff, alumni, supporters and partners to participate in supporting this ambition.
Build a strong link between volunteering, local community engagement and our philanthropic aims, including increasing volunteering from the University's global alumni community to support a range of activities across the University.