Infrastructure and digital
We continue to progress our work on capital projects and digital capability, which have been critical to the delivery of our vision for excellence in research, innovation and education.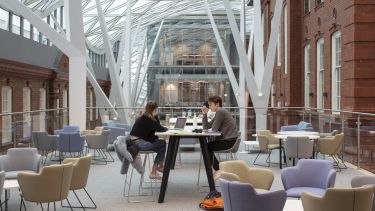 Our infrastructure
Ensuring that progress in our world-leading research institutes has not been held up, a number of key construction projects have been completed.
The Sheffield PET-MRI facility, attached to the city's Royal Hallamshire Hospital and serving patients across the region, has brought the future of medical imaging to Sheffield. Researchers and clinicians using the facility, including those from the Neuroscience Institute, are helping to transform our understanding of serious diseases, such as Alzheimer's disease, Motor Neurone Disease and cancer, and the way we treat them in the future.
A second flagship, the Energy Institute, has also moved its experts into the Translational Energy Research Centre at the University of Sheffield Innovation District, one of the largest research and development facilities in Europe for zero-carbon energy, bioenergy, and carbon capture, utilisation and storage.
Throughout the last 18 months, we have transformed our campus according to changing Covid-19 guidance, so that essential academic activity could continue. From ongoing maintenance to providing huge cleaning and security provision, and reassurances around water quality and ventilation, it was critical that staff and students felt safe when using our buildings.
With Covid-19 case numbers growing in November 2020, the University wanted to protect and give more reassurance to its staff, students and local community. We transformed the Octagon into a Covid-19 testing centre for those working and studying on campus to access lateral flow tests. This was later converted again into a vaccine centre, serving
the wider Sheffield City Region and making a sustained contribution to public health.
With sustainability always at front of mind, a number of great strides have been made. In 2020, following the student-backed campaign, the University switched to new electricity contracts, sourced entirely from solar, wind and hydro generation. This means that 100 per cent of the purchased electricity used across the University comes from renewable sources. We have also made substantial improvements to our waste management, and kept our green campus healthy and beautiful. A tree management strategy, published in early 2020, ensures a consistent and positive approach to managing our 10,000+ specimens which are enjoyed by the whole city.
Sustainability is being considered at every stage of the building process as well, in part thanks to the development of a Sustainable Building Standard. The new Faculty of Social Sciences building, due to complete in 2022, uses ground source heat pumps to maximise the opportunity created by thermal warmth, and provide cooling in the summer.
The Engineering Heartspace transformation, which links the Grade II listed Sir Frederick Mappin Building with the 1885 Central Wing with a spectacular curved glass roof and atrium, has improved the thermal performance of the listed buildings.
Our development continues with the Advanced Manufacturing Group, who we work with to accommodate their research, innovation and training links with advanced manufacturing companies around the globe. These specialist facilities provide incredible opportunities for our scholars, students and the wider region, and are now expanding to other parts of the UK with AMRC Cymru, and AMRC North West in Lancashire, which is nearing completion.
---
Investment in digital technology
The University's digital capability is critical to the delivery of our academic vision to provide world-class teaching and research facilities and services for our staff and students.
Central to the development of this capability is our technology-enabled strategic framework which aligns transformational change of technology, products, services and systems with University strategy. This is backed by an investment level of £15 million to £18 million each year for the next three financial years.
Design before the pandemic, this approach has already enabled a flexible and effective response to Covid-19 for the last 20 months, allowing staff and students to easily move to a remote pattern of working; a successful year of remote teaching has prepared us for a more hybrid model of working and education in the coming year.
Our focus is now on developing this digital capability in a sustainable way by ensuring excellence in service delivery, delivering transformative change through technology, reducing the risks in our systems, and investing in our people. Cyber security and the security of information and systems remains a key overarching priority.
In support of the University's academic mission, we will be enabling personalised, accessible and inclusive digital teaching, learning and assessment, as well as making significant investment in facilities to support computational research and the secure analysis of sensitive data.
During the last year our Research IT team provided technology and support for the scientists sequencing over 1,000 Covid-19 genomes to aid the pandemic response. The University is part of the Covid-19 Genomics UK (COG-UK) Consortium which is backed by £20 million of government funding to map how Covid-19 spreads, behaves and mutates. We provided the infrastructure and high-performance computing capabilities which enable the project's required analysis of the genetic code of coronavirus samples. The new investment in research IT will significantly increase our ability to contribute to further opportunities like this in future.