Our researchers are finding ways to improve lives globally, from investigating a potential new treatment for motor neurone disease to improving technologies such as solar energy capture and medical sensors. Explore some of our research highlights.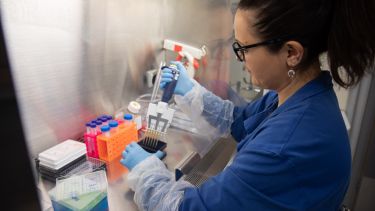 Bringing history to life with AR technology
In collaboration with creative agency Human Studio, our archaeologists have created a virtual model of the medieval castle that was once the beating heart of Sheffield.
Based on Professor John Moreland's research, it's the most accurate representation of the castle ever produced, allowing us to step into the past and have a look around.
The immersive, augmented reality experience wowed thousands of visitors at Festival of the Mind in 2018. Now it's on permanent display in the most apt location imaginable: the National Videogame Museum in Castle House, right where the real castle stood.
Languages and cultures: major new study
Academics from our School of Languages and Cultures will lead a major project, funded by the Arts and Humanities Research Council, exploring one of the biggest challenges in central and eastern European languages.
Working alongside researchers from seven partner institutions in the Czech Republic and Croatia, Professor Neil Bermel and colleagues will look at competing forms (when two words mean the same thing), how these phenomena evolve, the difficulties they present in terms of language learning and how some words become standard usage while others don't.
Major new languages study could shape how grammar is represented in dictionaries and guidebooks
The future of public health
The Wellcome Trust is investing over £5 million to fund 35 new PhDs at Sheffield. These students, from the UK and overseas, will focus on the most critical issues in global public health. Their research will inform policy and decision making at an international level.
Health data revolution
Our academics are leading a £3.4 million initiative to improve patient care through the use of data analytics.
The Better Care North Partnership will initially focus on social care and how better use of data could improve the way care home residents are monitored to detect any deterioration in their condition. Better monitoring can help optimise the use of antibiotics and reduce antimicrobial resistance.
Fifteen organisations are involved in the partnership. Professor Suzanne Mason (School of Health and Related Research) will be an associate director. Professor Peter Bath (Information School) will co-lead its training theme.
Loneliness: towards a new public health approach
A cross-faculty team, with colleagues from Brunel and De Montfort, has delivered a major new project to understand loneliness in migrant and ethnic minority groups.
There is reason to believe these groups could be at increased risk from loneliness, a social problem that can have implications for physical and mental health.
Funded by the National Institute for Health Research, the 18-month project provides a much-needed assessment of existing research and approaches to the problem and suggests a more holistic way of working in which local social systems could be loneliness-proofed.
Inequality: challenging assumptions
Funded by the Nuffield Foundation, researchers in our Department of Urban Studies and Planning have developed an atlas of inequality in England that challenges misconceptions.
Their work suggests that no single measure of inequality gives the full picture, so to develop effective solutions we may need a much wider range of methodologies to gauge the true extent of the problem.
Florey Institute's insight is a game changer
Scientists at our Florey Institute have broken new ground in their mission to combat antibiotic resistance in bacteria, producing the first high-resolution images of the cell wall structure of Staphylococcus aureus, better known as MRSA.
This unprecedented insight into the structure of the outer bacterial layers provides a new framework for understanding how bacteria grow and how antibiotics work.
Net zero: creating sustainable carbon-based materials
The University is leading a £7.25 million project to create sustainable carbon-based materials that could help the UK meet its net zero carbon targets. Funded by the Engineering and Physical Sciences Research Council (EPSRC) and led by Professor Graham Leggett (Department of Chemistry), researchers will develop organic molecular materials that could improve technologies such as solar energy capture and medical sensors.
Motor neurone disease: green light for clinical trial
Sheffield is a key partner in an international consortium investigating a potential new treatment for motor neurone disease (MND). The treatment, which uses a protein to control the immune response of patients with MND, could reduce further damage to the brain and spinal cord.
Scientists from the Sheffield Institute of Translational Neuroscience (SITraN) played an important role in the successful pilot study, which has led to funding for a longer, large-scale clinical trial of the new therapy, currently underway across Europe.
Low-cost arthritis drug can treat blood cancer
A breakthrough study by the University has shown that an inexpensive arthritis drug – on the World Health Organisation's list of essential medicines – significantly reduces symptoms associated with blood cancers.
Professor Martin Zeidler (Department of Biomedical Science) led the study with Dr Sebastian Francis (Royal Hallamshire Hospital) and partners from the universities of Oxford and Cambridge. Their discovery could improve quality of life for patients around the world.
---
Institute for Sustainable Food
Academics from our Institute for Sustainable Food and from our Grantham Centre for Sustainable Futures are collaborating with Syrian refugees living in the Za'atari camp in Jordan on a project to design and manufacture PPE.
With the help of Professor Helen Storey (University of the Arts London), The People's PPE uses low-cost, locally sourced materials to make masks, shields and gowns that can be repurposed after the pandemic. Using printing and sewing facilities in the UK as well as in the camp, the work is creating training and employment opportunities, keeping people safe and reducing plastic waste.
Energy Institute
Researchers from our Energy Institute will join colleagues from the University of Strathclyde on an £8 million programme to reduce the environmental impact of aviation and gas turbine engines (GTEs). The project is funded by the Engineering and Physical Sciences Research Council (EPSRC) and backed by Rolls-Royce, Siemens Energy, OptoSci, M Squared Lasers and Tracerco.
Researchers from our Energy Institute are helping to provide rural communities in the Amazon region with clean, secure electricity. Dr Davide Poggio is working with partners from two Brazilian universities (Universidade Federal do Amazonas and the Universidade Federal de Minas Gerais) to develop a microgrid which uses a combination of solar energy and biogas from biowaste such as manure to produce energy.
Two nuclear engineers from our Energy Institute have been chosen to advise the government on nuclear waste management. Professor Neil Hyatt and Dr Claire Corkhill have years of experience developing and evaluating solutions for the long-term storage of nuclear waste. As members of HM Government's Advisory Committee on Radioactive Waste Management, they will report to the Secretary of State for Business, Energy and Industrial Strategy.
Healthy Lifespan Institute
Experts from two of our flagship institutes have discovered proteins that can repair breaks in DNA that cause cancer and motor neurone disease. Professor Sherif El-Khamisy of the Healthy Lifespan Institute collaborated with scientists from our Neuroscience Institute and from Oxford University on the study. Their findings could also be used to repair DNA breaks in cancer patients caused by chemotherapy.
Neuroscience Institute
In February 2020, the University was awarded the Queen's Anniversary Prize Medal in recognition of the work done by the Sheffield Institute for Translational Neuroscience (SITraN). Part of our Neuroscience Institute, SITraN works to improve outcomes for people living with neurodegenerative diseases. Its achievements include a new orthotic device for patients living with motor neurone disease, groundbreaking stem cell clinical trials for multiple sclerosis sufferers and drug discovery programmes to develop treatments for Parkinson's disease.
Flagship institutes
Our four flagship institutes bring together our key strengths to tackle global issues, turning interdisciplinary and translational research into real-world solutions.