About our City residences
Our City accommodation is conveniently located close to both our University department buildings and Sheffield's city centre. It has a variety of room types and locations available, all great places to live during your time at University.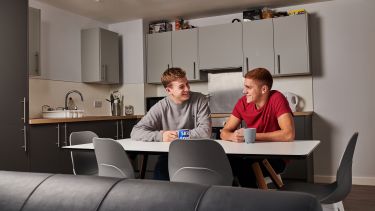 Choose our City accommodation and you'll never be short of things to do both on campus and around the city. Creative hubs, quirky cafes, and a vibrant nightlife are all a short walk away. Plus you have plenty of quiet places to study including Sheffield's many parks and our University libraries.
City Campus accommodation on-site facilities
The Allen Court building has a common room, cinema room, games room and a customer services reception available from 8am - 7pm.
All sites are a 5-minute walk to the Students' Union
In the Students' Union, there's a huge variety of shops and cafes
The city of Sheffield
The city centre has everything you need with plentiful events and activities. Our City accommodation sits right next to Sheffield's shopping district, close to many cafes, Sheffield's nightlife, restaurants, green spaces, hospitals as well as numerous arts and culture venues. 
Kelham Island 
Kelham Island is Sheffield's trendiest city neighbourhood. Home to the popular Peddler open-air food market, Cutlery Works food hall and arcade bar Church - Temple of Fun, owned by Sheffield band Bring Me The Horizon's frontman Oli Sykes, you can easily spend a day (or night) exploring its colourful bars and restaurants.
A world top-100 university
We're a world top-100 university renowned for the excellence, impact and distinctiveness of our research-led learning and teaching.