Introducing The Green Room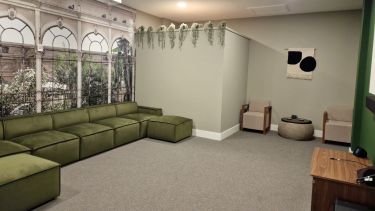 The Green Room is the latest addition to the great range of social and study spaces available to students living in University accommodation, it boasts a range of features from comfortable seating and bean bag chairs to a projector and screen for streaming Netflix or gaming! 
Stylistically, the space pays homage to the city of Sheffield, with an impressive feature wall decorated to resemble the Botanical Gardens, which is located a short walk away from the Ranmoor/Endcliffe residences. Sheffield themed artwork adorns another wall, as we celebrate the steel city that our students have chosen to call home.
The room operates as a shared space for staff and students, with bookings available in 1-hour timeslots between 9am - 5pm for meetings or study sessions. At 5pm it becomes the perfect place for watching a movie with friends, with two 3-hour timeslots available where students can stream Netflix on the system provided, or stream from their own devices. 
More information about The Green Room, including information on accessing and booking the space, can be found on the Residence Life website.