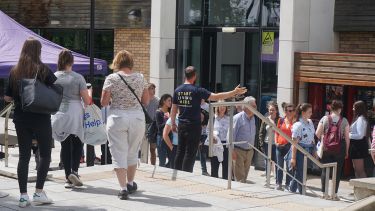 We aim to give you as much information as we can throughout the day to make that important decision making somewhat easier. 
University Accommodation is quite simply THE only place to live in your first year as you will be joining a vibrant community of first year undergraduates who are all in the same boat as you - excited, nervous and ready for a new adventure. 
Everything starts here in University Accommodation, the new friendships, learning how to do new things like cooking and also exploring the city once you've unpacked all your bags in your new home for the year. 
Don't forget - you are welcome to live in University Accommodation throughout your entire studies if you would like the peace and reassurance of knowing that there will always be someone on-hand to look after you if needed. 
We have Residence Life Mentors who take care of your questions and queries and they have all been in exactly the same position as you - unsure what's coming next.
It's often easier to speak to someone of a similar age and students always find this a really useful addition to have available to them within the residences. 
If you didn't get to see everything on the Accommodation Tours on the actual day please take a look around our 360 Degree Virtual Tours:
All current rents are available to view here - just remember that these are subject to change each academic year.
We wish you all the very best of luck with your studies and we can't wait to welcome you into University Accommodation if you pick us as your number 1 University.
You won't regret - it will be the best decision you ever make.