Waitrose donation and our work with The Archer Project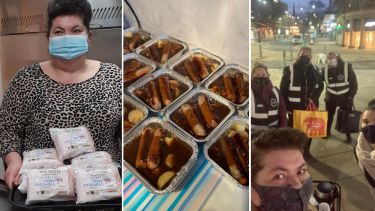 On Wednesday 17 November Waitrose donated 1,000 packs of 12 sausages to Accommodation and Commercial Services, the majority of which went into our two Community Fridges in Ranmoor/Endcliffe to be used by the students who live with us as part of our commitment to sustainability and reducing food waste. 
But this generous donation didn't only feed students in the residences, it also helped feed the wider community - a member of our retail team, Claire Fitzsimmons, cooks meals for the homeless through the Archer Project in her spare time, and some of the sausages from the Waitrose donation went to this incredibly worthy cause. Some of you may recognise Claire from Cafe 1828 in the Medical School! 
Claire began cooking for the homeless a few years ago, preparing and cooking the meals at home, and serving them from stalls in Sheffield City Centre on King Street. 
The pandemic put a stop to serving food from stalls as the gathering crowds would break social distancing measures, but that didn't stop Claire and her team. They went mobile with hot boxes and trollies delivering food, sandwiches, cakes, crisps, flasks of hot drinks, clothes, sleeping bags and toiletries around the city centre to those in need. 
The closure of our outlets during the pandemic meant Claire was furloughed, and during this time she offered her services to the Archer Project, helping out in their kitchen a few days a week. 
Our Wrap Up Sheffield campaign works with the Archer Project to provide warm clothing for those who are homeless or in need, to find out more information about the campaign or to donate, please check out this article: withus.com/the-archer-project-wrap-up-sheffield/
We are incredibly proud of the work Claire has done, and also grateful to Waitrose for their delivery which has allowed us to help a wide range of people, the Facilities Management team for collecting the sausages and stocking the fridges, and to our Contracts and Sustainability Coordinator Andy Woffindin who worked on installing the Community Fridges in the residences. 
VERBATIM COMMENTS FROM CLAIRE
"A few years ago I started to cook for the homeless on a Wednesday night, we cooked at home and we served it on stalls that were set up on King St… when Paul got poorly I had to stop. 
Before lockdown I was introduced to Sarah Barlow who set up SSK (Sheffield Street Kitchen) again we cooked at home and set up to serve at the bottom of King St in Sheffield 5-7pm on a Saturday evening.
When Covid hit we had to stop, and then because of social distance measures we could not set up on King St as it attracted too many people so 6 of us decided that we still wanted to feed the homeless so we decided to walk round instead, we had hot boxes and trollies filled with hot food, sandwiches, cakes, crisps, flasks of hot drinks, clothes, sleeping bags, toiletries and we walked round Sheffield town centre starting off at the cathedral and covered High St, Fargate, Moor, West St.
We aren't a registered charity and we fund all our own cooking ourselves, we have an Amazon list and Facebook page which Sarah set up that people can buy things off and have them sent directly to Sarah. We do work with the council, and Sarah has regular meetings with them to keep us updated about things . 
Through lockdown when I was furloughed I went to help out at Archer project in the kitchen a few days a week."
Link to the Facebook group: Sheffield Street Kitchen | Facebook