Find out how you can support your son or daughter as they move into University accommodation, and how you can keep in touch while they're away.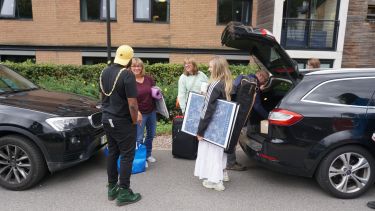 Get in contact with us
Need to talk to someone?
We want to hear from you if you have any questions, concerns or complaints relating to our Covid-19 guidance. It is important that you ring us and talk to someone who can help:
For any general enquires or questions about our facilities and services, please contact:
Customer Services
Call: 0114 222 4488
Email: acs-customerservices@sheffield.ac.uk
If you are concerned about your child's/student's welfare, wellbeing or support, please contact:
Residence Life
Call: 0114 222 8800
Email: residentsupport@sheffield.ac.uk
For anything relating to accommodation, please contact: 
The Accommodation Office
Call: 0114 222 4488 
Email: accommodationoffice@sheffield.ac.uk
---
Coronavirus Updates
You can find all the latest information relating to living in university accommodation via our coronavirus updates page that is updated daily.
---
Did you know that we offer accommodation for parents, family or friends visiting The University of Sheffield? Our Halifax Hall and Jonas Hotel are conveniently located on the edge of the Ranmoor/Endcliffe residences and are a short walk from the University campus as well as Ecclesall Road, an area popular for its bars, pubs and restaurants.
Parents and guardians' newsletter
If your son or daughter is coming to live in University accommodation, sign up to receive our parents and guardians' newsletter, which will be circulated prior to moving in weekend.
---
Directions and maps
Find out how to The University of Sheffield University using local and national transport:
---
Insurance
£5,000, or £7,500 for student families, of room contents insurance with Cover4Students is included as part of the rent.
TV Licence 
If your son or daughter plans to have a television in their room, or watch live or catch-up TV online, they will need a TV license.
Safety and security
Safety and security is a key priority for us and we have a wide range of measures in place. These include 24/7 security services, CCTV and regular patrols.