Find out how you can support your son or daughter as they move into University accommodation, and how you can keep in touch while they're away.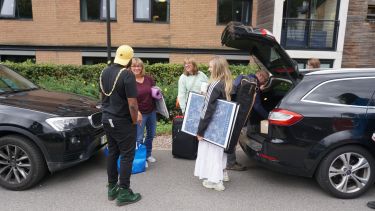 Coronavirus Updates
You can find all the latest information relating to living in university accommodation via our coronavirus updates page that is updated daily.
---
Did you know that we offer accommodation for parents, family or friends visiting The University of Sheffield? Our Halifax Hall and Jonas Hotel are conveniently located on the edge of the Ranmoor/Endcliffe residences and are a short walk from the University campus as well as Ecclesall Road, an area popular for its bars, pubs and restaurants.
Parents and guardians' newsletter
If your son or daughter is coming to live in University accommodation, sign up to receive our parents and guardians' newsletter, which will be circulated prior to moving in weekend.
---
Pre-arrival E-induction
Every student gets a link to our pre-arrival accommodation e-induction when they receive their accommodation contract. Make sure your son or daughter completes theirs before setting off to university, as they will need to book an arrival time slot and find out their key collection location.
---
Returners
Returners can still apply for accommodation via MUSE. We have ended our Donut Leave Us offers but we still have some incredible properties available at a great price. Please head to MUSE to apply via our Apply Now button below or if you prefer, you can email the accommodation office about our current offers and availability.
---
Moving in
One of our most frequently asked questions is what students need to bring and what will already be provided. We have a few suggestions for what you need to bring as well as good optional extras. 
What you need to bring:
Duvet
Pillows
Bedding
Cutlery
Plates and bowls
Glasses and cups
Pots and pans
Cleaning products
Coat hangers
What you could bring:
Posters and photos
Bicycle
Computers
TV (and license)
What you should not bring:
Furniture
Candles or fairy-lights
Extension leads
Fridges (mini drinks coolers are OK)
Animals
Homeware packs
Kitchen utensils, bedding, and coat hangers are available to buy from the University's online shop, or you can order them in advance so they will be in your room when you arrive.
---
Directions and maps
Find out how to The University of Sheffield University using local and national transport:
---
Insurance
£5,000, or £7,500 for student families, of room contents insurance with Cover4Students is included as part of the rent.
TV Licence 
If your son or daughter plans to have a television in their room, or watch live or catch-up TV online, they will need a TV license.
Safety and security
Safety and security is a key priority for us and we have a wide range of measures in place. These include 24/7 security services, CCTV and regular patrols.