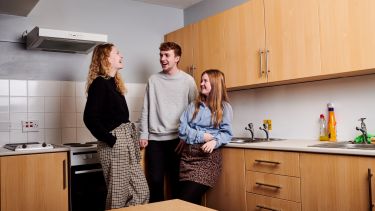 2020/21 accommodation
If you are arriving in Sheffield to study at the University of Sheffield for the academic year 202/21 you can apply for university owned and managed accommodation.  We know this year has changed student plans so we are here to help and assist. Whenever you decide you want to come to Sheffield, contact the Accommodation Office for more details on how to apply as detailed below.
Please keep up to date with all information COVID related
---
Applications are now closed for all New Students, Semester 2 Students and USIC Students. 
If you have not yet secured University Accommodation and still wish to secure a room for the current academic year, please get in touch with us via email, confirming the dates you require accommodation from and to. 
Email: accommodationoffice@sheffield.ac.uk
---
Erasmus and Study Abroad
Erasmus and Study Abroad students coming for one Semester starting in February 2021, applications are open and remember you are guaranteed accommodation if you apply by the end of January 2021.
---
English Language Teaching Centre
For courses happening throughout the year please contact the accommodation office.
Email: accommodationoffice@sheffield.ac.uk
Phone number: 0114 222 44 88 (option 2)
---
Families and couples
The University Accommodation Services office will give you every possible assistance to find suitable accommodation, but as demand for this type of accommodation is sometimes greater than the number of properties available, the University cannot guarantee that suitable housing will always be found.
For more information please contact the accommodation office via email on accommodationoffice@sheffield.ac.uk or by phone on +44 114 222 4488 (option 2).
---
How to apply for accommodation
Theres two options:
1. Log in to MUSE and start your application for accommodation
Or
2. Set up your MUSE account (if you are a new student and just accepted an academic course then wait for an email from the team which will have your login details)
Please be patient, as once the university has offered you a course and you have accepted that course - it can take up to 48 hours before you will receive your MUSE log in details. Once you have your MUSE login details you can apply for your accommodation online. Please bear in mind that if you are waiting to be released from another university back onto the UCAS system - this could incur further delays which are out of our control. 
---
Accommodation Fees Guide 2020/21