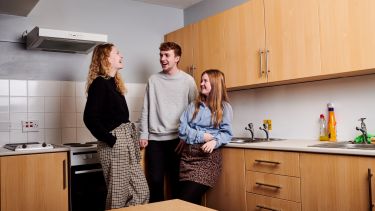 2020/21 accommodation
FREE accommodation if you need to self-isolate
Postgraduate students coming from a country that needs to self-isolate will be provided with up to 3 weeks of FREE accommodation. You need to book your flights to allow time for arrival and moving in so that you can complete your period of self-isolation prior to your contract start date. 
Please keep up to date with all information COVID related
---
Wondering what to expect on Arrivals week? 
Check out our moving-in page. Here you can find everything that you need to know from how to do your washing to Residence Life activities and events across the year. 
---
Erasmus and Study Abroad
Erasmus and Study Abroad students coming for one Semester apply for accommodation in the same way as all the other students.  
Semester 1 Study Abroad students are guaranteed a room providing they apply by the guarantee date. 
Erasmus students aren't guaranteed accommodation but we do try to help them where possible.
---
USIC 
If you would like to apply for accommodation for the start of the next academic year please contact via email.

USIC.CSS@studygroup.com
---
English Language Teaching Centre
For courses happening throughout the year please contact the accommodation office.
Email: accommodationoffice@sheffield.ac.uk
Phone number: 0114 222 44 88 (option 2)
---
General Information
How to apply for accommodation
Set up your MUSE account (wait for an email from the team which will have your login details)
Log in to MUSE and start your application for accommodation
Don't forget to choose your preferences 
Please be patient, as once the university has offered you a course and you have accepted that course - it can take up to 48 hours before you will receive your MUSE log in details. Once you have your MUSE login details you can apply for your accommodation online. Please bear in mind that if you are waiting to be released from another university back onto the UCAS system - this could incur further delays which are out of our control. 
Families and couples
The University Accommodation Services office will give you every possible assistance to find suitable accommodation, but as demand for this type of accommodation is sometimes greater than the number of properties available, the University cannot guarantee that suitable housing will always be found.
For more information please contact the accommodation office via email on accommodationoffice@sheffield.ac.uk or by phone on +44 114 222 4488 (option 2).
---
Policies & Procedures 
Accommodation Fees Guide 2020/21