Inventory for the residences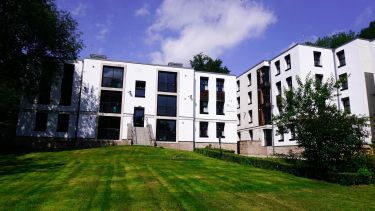 Ranmoor/Endcliffe Apartments: Birchen, Burbage, Cratcliffe, Curbar, Derwent, Froggatt, Howden, Kinder, Lawrencefield, Millstone, Ramshaw, Ravenstone, Rivelin, Stanage, Wimberry, Windgather, Yarncliffe. 

Room type:

En-suite: Single bed 3'0" x 6'3" (90 x 190 cm) including mattress
Deluxe en-suite: Small double 4'0" x 6'3" (120 x 190 cm) including mattress
Studio: Double bed 4'6" x 6" (135 x 190 cm) including mattress

Room items:

Wardrobe
Computer desk and chair 
Shelves
Floor covering
Curtains or blinds
Mirror

Kitchen items:

Kitchen units/cupboards
Microwave
Toaster
Kettle
Fridge
Freezer
Ironing board
Iron
Vacuum
Oven
Induction hob
Table or breakfast bar plus seating 
Settee/stools
Kitchen bin
Sink

En-suite will typically contain:

Shower and curtain
Mirror
Sink
Toilet 
Toilet roll holder

Adapted rooms:

Available in: Burbage, Howden and Rivelin.

Lifts: 

Burbage (C&D, E-F blocks) Derwent, Froggatt, Howden, Kinder, Ramshaw, Ravenstones, Rivelin (block E&F), Wimberry, Windgather, Yarncliffe

Laddow

Room type:

Studio: Double bed 4'6" x 6'3" (135 x 190 cm) including mattress

Room items:

Wardrobe
Computer desk and chair 
Waste bin
Shelves
Floor covering
Curtains or blinds
Mirror

Kitchen items:

Kitchen units/cupboards
Combi microwave
Toaster
Kettle
Fridge
Freezer
Ironing board
Iron
Vacuum
Induction hob
Table plus seating 
Kitchen bin
Sink

En-suite will typically contain:

Shower and curtain
Mirror
Sink
Toilet 
Toilet brush
Toilet roll holder

Lifts:

There are lifts in all Laddow blocks

Houses: 8-10,12,14,22,24-26, 28-30 Endcliffe Crescent. 8,26-28,30-32 Oakholme Road.

Room type: Shared bathroom

Single bed: 3'0" x 6'3" (90 x 190 cm) including mattress
Small double: 4'0" x 6'3" (120 x 190cm) including mattress
Shared deluxe: 4'6" x 6'3" (135 x 190 cm) including mattress

Room items:

Wardrobe
Computer desk and chair
Waste bin
Shelves
Floor covering
Curtains or blinds
Mirror
Sink

All kitchen typically have the following:

Kitchen units/cupboards
Microwave
Toaster
Kettle
Fridge/freezer
Ironing board
Iron
Vacuum
Oven
Hob
Table or breakfast seating
Settee/stools
Kitchen bin
Sink
Vacuum cleaner

Shared bathroom/en-suite will typically contain:

Shower and curtain
Mirror
Sink
Toilet
Toilet brush
Toilet roll holder

Flats: Crewe, Crescent, Endcliffe Vale

Room Type: Shared bathroom

Single bed 3'0" x 6'3" (90 x 190 cm) including mattress

Room items:

Wardrobe
Computer desk and chair 
Waste bin
Shelves
Floor covering
Curtains or blinds
Mirror

All kitchens typically have the following:

Kitchen units/cupboards
Microwave
Toaster
Kettle
Fridge/freezer
Ironing board
Iron
Vacuum
Oven
Hob
Table or breakfast bar plus seating
Settee/stools
Kitchen bin
Sink

Shared bathroom/En-suite will typically contain:

Shower and curtain
Mirror
Sink
Toilet
Toilet brush
Toilet roll holder

Allen Court

Room Types:

En-suite+: 3/4 bed 4'0" x 6'3" (120 x 190 cm) including mattress - please buy double bedding
Deluxe+: double bed 4'6" x 6'3" (135 x 190 cm) including mattress

Room items:

Wardrobe
Computer desk and chair
Shelves
Floor covering 
Blinds
Mirror

All kitchens typically have the following:

Kitchen units and cupboards
Microwave
Toaster
Kettle
Fridge/freezer
Ironing board
Iron
Oven
Induction hob 
Table or breakfast bar plus seating
Settee/Stools
Kitchen bin
Mop and bucket
Dustpan and brush
Sink
Sweeping brush
TV and remote - license not included 

En-suite will typically contain the following:

Shower and curtain
Mirror
Sink
Toilet

Lifts are in the property 

St Vincent's

Room Type: En-suite 

 

3/4 bed 4'0" x 6'3" (120 x 190 cm) including mattress - please buy double bedding

 

Room items:

 

Wardrobe
Computer desk and chair
Curtains
Under bed storage

All kitchens typically have the following:

 

Breakfast bar
Microwave
Cooking hobs
Oven
Fridge/freezer
Stools
Sofa
Iron
Ironing board
Ventilation system
Noticeboard
Kitchen bin
Dustpan and brush
Mop and bucket
Vacuum cleaner

En-suite will typically contain:

 

Shower
Mirror
Bathroom mirror
Toilet
Sink
Towel rail
Toilet roll holder

Lifts are in the property.

Mappin

Room type: Shared bathroom

Single bed 3'0" x 6'3" (90 x 190 cm) including mattress

Room items:

Wardrobe
Computer desk and chair 
Waste bin
Shelves
Floor covering
Curtains or blinds
Mirror 

All kitchens typically have the following:

Kitchen units/cupboards
Microwave 
Toaster
Kettle
Fridge/freezer
Ironing board
Iron
Vacuum
Oven
Hob
Table or breakfast bar plus seating
Settee/stools
Kitchen bin
Mop and bucket
Dustpan and brush
Sink
Sweeping brush 

Shared bathroom typically contain:

Shower and curtain
Mirror 
Sink
Toilet
Toilet brush
Toilet roll holder

St Georges

Room types: En-suite

Single bed 3'0" x 6'3" (90 x 190 cm) including mattress

Room items:

Wardrobe
Computer desk and chair 
Waste bin
Shelves
Floor covering 
Curtains or blinds
Mirror 

All kitchens typically have the following: 

Kitchen units/cupboards
Microwave
Toaster
Kettle
Fridge/freezer
Ironing board
Iron
Vacuum
Oven
Hob
Table or breakfast bar plus seating 
Settee/stools
Kitchen bin
Mop and bucket 
Dustpan and brush
Sweeping brush

Shared bathroom/en-suite will typically contain the following:

Shower and curtain
Mirror 
Sink
Toilet
Toilet brush
Toilet roll holder

Broad Lane Court

Room types: Shared bathroom 

Single bed 3'0" x 6'3" (90 x 190 cm) including mattress

Room items:

Wardrobe
Computer desk and chair
Waste bin
Shelves
Floor covering
Curtains or blinds
Mirror

All kitchens typically have the following:

Kitchen units/cupboards
Microwave
Toaster
Kettle
Fridge/freezer
Ironing board
Iron
Vacuum
Oven
Hob
Table or breakfast bar plus seating
Settee/stools
Kitchen bin
Mop and bucket
Dustpan and brush
Sink
Sweeping brush

Shared bathrooms typically contain:

Shower and curtain
Mirror
Sink
Toilet
Toilet brush
Toilet roll holder

Studio 300

Room type: Studio

Double bed 4'6" x 6'3" (135 x 190 cm) including mattress

Room items:

Wardrobe 
Computer chair and desk
Waste bin
Shelves
Floor covering
Blinds
Mirror

All kitchens typically have the following:

Kitchen units/cupboards
Microwave
Toaster
Kettle
Fridge/freezer
Ironing board
Iron
Vacuum
Oven
Hob
Table or breakfast bar plus seating 
Settee/stools
Kitchen bin
Mop and bucket
Dustpan and brush
Sink
Sweeping brush
Tv and remote
Access to washers and dryers 

En-suites typically contain:

Shower and curtain
Mirror
Sink
Toilet
Toilet brush
Toilet roll holder

Shore Court

Room types:

1 bed: double bed 4'6" x 6'3" (135 x 190 cm) including mattress

2 bed: double bed 4'6" x 6'3" (135 x 190 cm) including mattress and single bed 3'0" x 6'3" (90 x 190 cm) including mattress

3 bed: double bed 4'6" x 6'3" (135 x 190 cm) including mattress, single bed 3'0" x 6'3" (90 x 190 cm) including mattress and single bed 3'0" x 6'3" (90 x 190 cm) including mattress

Room items:

Wardrobe 
Computer desk and chair 
Waste bin
Shelves
Floor covering
Curtains or blind
Mirror in wardrobe
Bedside cabinet 
Chest of drawers

All kitchens typically have the following:

Kitchen units/cupboards
Microwave
Toaster
Kettle
Fridge/freezer
Ironing board
Iron
Vacuum
Oven
Hob
Table or breakfast bar plus seating 
Settee/chair
Kitchen bin
Mop and bucket
Dust pan and brush
Sink
Sweeping brush

Bathrooms typically contain:

Shower and curtain/screen
Mirror with light
Sink
Toilet
Toilet brush
Toilet roll holder

Lifts:

There are lifts in A-B and C block

Endcliffe Avenue House 14

Room types:

1 bed: double bed 4'6" x 6'3" (135 x 190 cm) including mattress

2 bed: double bed 4'6" x 6'3" (135 x 190 cm) including mattress and single bed 3'0" x 6'3" (90 x 190 cm) including mattress

Room items:

Wardrobe 
Computer desk and chair
Waste bin
Shelves
Floor covering
Curtains or blinds
Mirror in wardrobe 
Bedside cabinet
Chest of drawers 

All kitchens typically have the following:

Kitchen units and cupboards
Microwave
Toaster
Kettle
Fridge/freezer
Ironing board
Iron
Vacuum
Oven 
Hob
Table or breakfast bar with seating
Settee/chair
Kitchen bin
Sink
TV cabinet

Bathrooms typically contain:

Shower and curtain/screen
Mirror with light
Sink
Toilet
Toilet brush
Toilet roll holder

Endcliffe Avenue House 13

Room types:

Flat 1: double bed 4'6" x 6'3" (135 x 190 cm) including mattress

Flat 2: double bed 4'6" x 6'3" (135 x 190 cm) including mattress and single bed 3'0" x 6'3" (90 x 190 cm) including mattress

Flat 3: double bed 4'6" x 6'3" (135 x 190 cm) including mattress

Flat 4: double bed 4'6" x 6'3" (135 x 190 cm) including mattress

Room items:

Wardrobe
Computer desk and chair
Shelves
Floor covering 
Curtains or blinds
Mirror in wardrobe 
Bedside cabinet
Chest of drawers 

All kitchens typically have the following:

Kitchen units/cupboards
Microwave 
Toaster
Kettle
Fridge/freezer
Ironing board
Iron
Vacuum
Oven
Hob
Table or breakfast bar plus seating
Settee/chair
Kitchen bin
Sink 
TV cabinet

Bathrooms typically contain:

Shower and curtain/screen
Mirror with light
Sink
Toilet
Toilet brush
Toilet roll holder

Oakholme road, 3,5, 36 - flats 1-10

Room types:

3: double bed 4'6" x 6'3" (135 x 190 cm) including mattress, single bed 3'0" x 6'3" (90 x 190 cm) including mattress and single bed 3'0" x 6'3" (90 x 190 cm) including mattress

5: double bed 4'6" x 6'3" (135 x 190 cm) including mattress, single bed 3'0" x 6'3" (90 x 190 cm) including mattress and single bed 3'0" x 6'3" (90 x 190 cm) including mattress

36 - flats 1-10: double bed 4'6" x 6'3" (135 x 190 cm) including mattress

Room items:

Wardrobe
Computer desk and chair
Waste bin
Shelves
Floor covering
Curtains or blinds
Mirror in wardrobe
Bedside cabinet
Chest of drawers 

All kitchens typically have the following:

Kitchen units/cupboards
Microwave
Toaster
Kettle
Fridge/freezer
Ironing board
Iron
Vacuum
Oven
Hob
Table or breakfast bar, plus seating 
Settee/chair 
Kitchen bin
Sink
TV cabinet

Bathrooms typically contain:

Shower and curtain/screen
Mirror with light
Sink
Toilet
Toilet brush
Toilet roll holder

 
Disclaimer
The above is subject to change and is to be used as a guide only. This is a typical overview of what to expect in rooms and kitchens with full details available on your inventory which is to be completed on arrival. 
A world top-100 university
We're a world top-100 university renowned for the excellence, impact and distinctiveness of our research-led learning and teaching.