We believe that everyone deserves to feel secure and respected in their own homes. That includes having the choice of LGBT+ accommodation.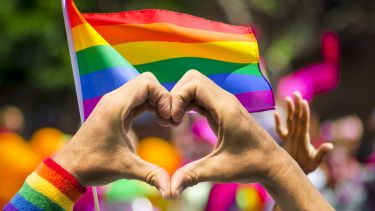 Off
We aim to ensure that all University accommodation is a safe, welcoming and inclusive place for everyone. Some students find it helpful to be living in accommodation specifically for LGBT+ students along with people who may have shared life experiences. We offer students the option of selecting LGBT+ accommodation when applying to live with us.
my flat was very well matched, having lgbt only accommodation is revolutionary

Student living in LGBT+ accommodation

Anonymous feedback from student survey - autumn 2022
---
Is the LGBT+ accommodation available for LGBT allies?
No, it is intended that this accommodation is exclusively for those who identify as LGBT+. This offers residents a place of peer support where they can use their shared experiences to help harbour an inclusive and positive space. In a similar way to the SU's LGBT+ lounge, it is intended to be a space for all LGBT+ students.
What does LGBT+ mean?
The University of Sheffield Students' Union's definition of LGBT+ includes, but is not limited to, students who are Lesbian, Gay, Bisexual, Transgender, Queer, Questioning, and Intersex. As a collaborative project, the same definition is used in regards to the LGBT+ accommodation.
Is there single gender LGBT+ accommodation?
Our LGBT+ accommodation provision is open to people of all genders. You can select the option regardless of your gender identity and can expect to live with other students of other gender identities. If you wish to live in single gender accommodation then please select that option when applying rather than LGBT+.
Can I change my gender and chosen name after I have registered?
Your student record is a legal record which will record your legal name and details, however you can populate the chosen name field on your accommodation account in order to ensure our Accommodation and Residence Life staff address you correctly. Please also feel free to make all members of our teams aware of your pronouns when communicating with them. For support regarding transitioning when at university please contact support@sheffield.ac.uk and consider contacting the SU LGBT+ committee which includes the Trans Welfare Officer.
For more information on LGBT+ accommodation please contact the Residence Life team residentsupport@sheffield.ac.uk or by phone 0114 222 9237.