What to bring with you when you move in
Heres a little list to give you an idea of what you should bring and what you are not allowed to bring to university. If you've found your future flatmates through our Facebook groups, we recommend discussing who's bringing what for the kitchens - you won't need 6 of everything!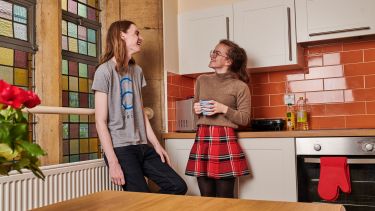 Off
Why not take the hassle out of buying and transporting your bedding and kitchen items by preordering from our friends at UniKitOut. All you need to do is click here, choose the items you want, select your residence, then confirm and pay for your goods. The pack will then be pre-delivered directly to your residence so it is there ready and waiting for you when you arrive, leaving you to settle into your new and exciting environment quickly. Don't forget to enter promotional code: SHEFFIELD10 to receive 10% off. 
What to bring with you
Bedroom

Duvet ( Most of our rooms have single beds. However, we recommend that you bring a double-sized duvet with you so that you can take this with you when you move out) 

Pillows

Bed linen 

Clothes hangers

Laundry basket

Clothes, bags and shoes 

Laptop

Chargers - laptop, phone, and other devices 

Stationary - notebooks, pens, pencils 

Bathroom

Towels - bath, hand, face

Soap

Shampoo and conditioner

Toothpaste

Toothbrush

Toilet roll

Kitchen

Plates

Bowls

Mugs

Glasses

Baking trays

Induction pots and pans

Tupperware

Travel mug/refillable water bottle 

Knives

Chopping board

Washing up liquid

Sponges/cloths

Tea towels 

Bottle/tin opener

Tongs/spatula/wooden spoons
What you might want to bring 
Miscellaneous

Pictures/photos for notice board (you can purchase Command Strips from the Village Store at Endcliffe)

Pins for notice board 

Bicycle 

TV

Throw/Blanket 

Washing Powder/Gel/Pods (Bio or Non-bio for those with allergies). 

Fabric Softener 

HDMI Cable

Storage Boxes 

Bath Mat 

Cleaning supplies
What not to bring
Miscellaneous

Plug-in fairy lights - battery-powered are OK

Candles

Furniture

Pets

Fridges
A global reputation
Sheffield is a research university with a global reputation for excellence. We're a member of the Russell Group: one of the 24 leading UK universities for research and teaching.