The Residence Life team is here to support you and make sure that you feel part of the community. We run thousands of free events and activities every year. Every week, we publish an online programme of events that you can book and take part in if you live in University accommodation.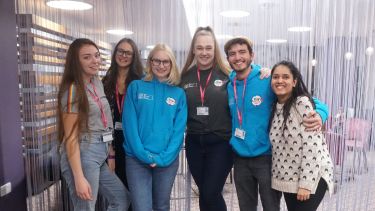 The Residence Life team is here to help you to have the best student residential experience possible. Alongside support and guidance, the team facilitates development opportunities and works in partnership with the Students' Union and Sport Sheffield to make Sheffield a great place to live.
Living and Learning: Events, Sports and Activities
In partnership with the University Student Services, the Students' Union and Sport Sheffield, Residence Life is designed to support your wellbeing and enhance your residential experience.
Our Residence Life team is one of the leading and award-winning student residential support services in the country. We are proud to create an environment for students where students can make friends and learn new skills. 
When you live in University accommodation, there's always something to get involved with. Residence Life offers a wide range of tailor-made activities, events, sports, fundraising and volunteering opportunities, life-skills sessions and information and awareness campaigns.
Every week you'll have lots of opportunities to meet new people and try new things, from five-a-side football, dance lessons and weekly fitness classes to music lessons, film nights and cultural celebrations.
Only students living in University accommodation have access to our broad range of exclusive activities and opportunities.
Looking for the latest updates on our events? Then join our Facebook Group so that you are the first to know about upcoming activities and competitions!
---
Support & Conduct
Residence Life Mentors are experienced students who live in the same residences. They are ready to support you during your time in University accommodation. They can help with emotional issues, academic worries, disagreements among flatmates, or if you just need someone to talk to. If they can't help or don't know the answer, they'll signpost you to someone who can.
Read about what it's like to be a Residence Life Mentor 
Contact us:
Email: residentsupport@sheffield.ac.uk
Phone: 0114 222 8800, 6:30pm-12midnight (ask for a Residence Life Mentor visit)
Phone: 0114 222 4085, after 12midnight (Security will pass concerns on to Residence Life)
Residence Life Mentor Drop-Ins:
Endcliffe Drop-in 9:00pm - 11:00pm in person at The Edge Hub Room or virtually https://meet.google.com/zoo-vuap-vrs
Ranmoor Drop-in 9:00pm - 11:00pm in person at The Ridge Common Room or virtually https://meet.google.com/zoo-vuap-vrs
City Drop-in 9:00pm - 11:00pm in person at Allen Court Common Room (Monday, Tuesday, Thursday, Friday and Sunday) or St Vincent's Common Room (Wednesday and Saturday) or virtually https://meet.google.com/zkw-oumj-iwx
Postgraduate Office Hours 8:00pm - 10:00pm in person at Allen Court Common Room and The Ridge Common Room or virtually https://meet.google.com/nhf-wvhb-wop