A home here guarantees you'll live exclusively with Sheffield students from 150 countries. And with the help of our Residence Life teams, you'll have loads of support to settle in, stay focused and make friends.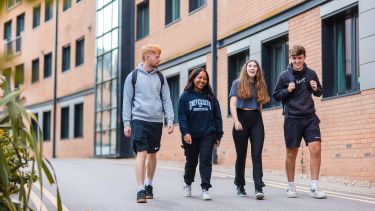 On
You didn't think we just threw 5,000+ people together and hoped for the best, did you? 
Every year, our Residence Life teams put on about 1,000 events and other fun stuff to bring people together. Dance lessons, cultural celebrations, fitness classes, film marathons…all completely free. 
Their job is making life at Uni, and making new friends, as fun as it can possibly be. Experience new things, meet new people and learn new skills. You can even organise your own thing or ask us to add something to the weekly programme.
 
Check out Residence Life events
For many, moving to Uni is their first time living away from home. The realities and complexities of student living can be overwhelming. 
When you need us, our Residence Life Mentors and trained support network are here to help you navigate this scary, exciting time.
And working in the background are our conduct and security teams – setting an example and heading off any issues, to make life better for everyone.
See the full list of contacts and support services on the Residence Life website
Meet for a drink at The Edge, hang out in The Green Room, hire tennis racquets, sunbathe on the lawn or go study by the pond. 
The whole idea behind accommodation is to create a true community, to bring you together so you learn and grow and get the most out of your time in the city. As sales pitches go, we think it's a pretty good one.
Semester 2 accommodation
Applications for Semester 2 accommodation are now open. We're pleased to offer a choice of locations and room types across our residences for Semester 2 arrivals in February 2024. We look forward to welcoming you to Sheffield.