Supporting research staff
Research excellence sits at the heart of the department and influences everything we do. Key to our world-leading research is our thriving and vibrant community of postdoctoral researchers.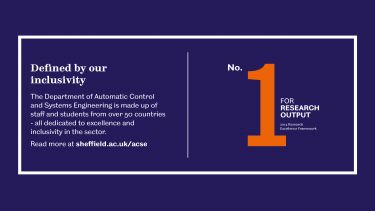 Our researchers are spread across our research groups, working across the department, faculty and wider university to both develop their own research interests and contribute to the wider aims of the department's research.
ACSE Career Development for Research Staff
We recognise that planning for your future career can be hard, so we've developed a bespoke career development series to support our research staff. This ensures that all our researchers have access to advice and information on how to develop their career trajectory. This covers a range of information from how to write high quality publications, coaching skills, applying for research fellowships through to regular social activities to allow dedicated time for our researchers to get together as a group.
As part of our commitment to developing research staff careers we run a dedicated away day for research staff that specifically focusses on relevant aspects of career development.
Undergraduate scholarships
Our department offers financial assistance in the form of scholarships and bursaries, in addition to the scholarships offered by the University of Sheffield.
Flagship institutes
The University's four flagship institutes bring together our key strengths to tackle global issues, turning interdisciplinary and translational research into real-world solutions.