The Department of Automatic Control and Systems Engineering is an inspiring, collegiate and inclusive community of academic staff, researchers and professional services staff and we're looking for excellent new staff to join us.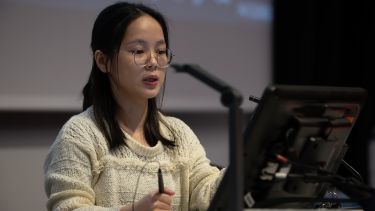 On
Current job opportunities will be published here when they're available
---
The Department of Automatic Control and Systems Engineering is one of the largest academic departments devoted to the subject in Europe. We are a world-leading research, innovation and education centre in automatic control and systems engineering.  The success of our department is driven by the passion of the people that work here, we strive to support our colleagues and students to achieve their best, creating an equal, diverse and inclusive community that celebrates the contribution and accomplishments of all.
We are an innovative, dynamic and ambitious department that is renowned for fostering multidisciplinary research activities involving partners from academia as well as major industry players, including Unilever, IBM, Rolls-Royce, Airbus, Siemens, Jaguar Land Rover, Ricardo, GKN Aerospace and more. Our fundamental research and knowledge-based activities are aligned with the future demands of both industry and society. 
We seek to develop innovative solutions to address global challenges in a diverse range of application fields from Aerospace, Transport and Manufacturing to Life Sciences and Healthcare, Energy and the Environment.
We also play full and active roles in other University research centres and institutes, including: 
We endeavour to provide a research-led, student centred learning experience, thereby giving all students the opportunity to realise their full potential, both during their degree and throughout their lives as potential engineering leaders who will make a positive impact on society and the world we live in.
Over the past few years the Department has grown the depth and breadth of our research, establishing critical mass in biomedical robotics and digital manufacturing. We are looking to further expand our research and teaching portfolio in control for power and energy systems as well as research at the interface between AI and cyber-physical systems. This is a truly exciting time for the Department as we seek to embed AI as an overarching research theme allowing us to address both major industry and societal challenges.
---
Our research is among the best in the UK in terms of quality of research outputs, grant income and impact.
We are proud that for our Engineering submission in the REF 2021, our research environment came joint 1st in the UK. We provide mentoring, support, facilities and environment for Early Career Researchers and independent fellows and we recognise PGRs as an integral part of our research community. 
We came 8th in the UK in terms of the quality of our research. 96 per cent of our research is rated in the highest two categories in the REF 2021 meaning it is classed as world-leading or internationally excellent. Our impact submission is rated 10th nationally, showing our research is playing a fundamental role in tackling the greatest challenges of our time and making a real-world difference to peoples' lives around the world.
---
ACSE is a truly international environment, where researchers and academics from all around the world share knowledge and collaborate every day, making us one of the leading departments in our field. Our vibrant social life (morning coffee breaks, monthly pub meetings...) brings opportunities to meet everyone in a more relaxed environment.

Hadriano Morales Escamilla

Research Associate in Modelling and Control at Rolls-Royce University Technology Centre
---
We offer undergraduate degrees in mechatronic and robotic engineering and computer systems engineering and postgraduate degrees in advanced control and systems engineering, robotics and autonomous and intelligent systems. 
All of our undergraduate degrees are accredited by the IET and we embed AI, digital skills, equality, diversity, sustainability and wellbeing across our curriculum.
---
'I started my job in ACSE in January 2020, just two months before the Covid-19 lockdown. My colleagues have been most welcoming and helped me settle into the new environment in these unprecedented circumstances. I have had many opportunities to contribute to the department operations while at the same time being able to progress my research and teaching. ACSE is a friendly department where one can easily find their place. 

Professor Sanja Dogramadzi

Professor of Medical Robotics
---
We have excellent partnerships and research collaborations with industry including Rolls Royce, Siemens, Airbus and the Advanced Manufacturing Research Centre (AMRC).
We are home to the Rolls Royce University Technology Centre with around 20 researchers collaborating on modelling, control and optimisation. 
We also have collaborative research with Sheffield Teaching Hospitals on cutting edge healthcare technology and the European Space Agency.  
---
There is a supportive culture amongst colleagues and from my experience, all staff will give others the time of day and are interested in their viewpoints. I also really appreciate the flexibility that the University offers to staff, balancing home life with work can be tricky, especially with young children. Having options for both hybrid and flexible working means that I can be present for my family without having to make major compromises or changes to my role and career.

 Rebecca Fieldsend

PA to Professor George Panoutsos, Head of Department
A global reputation
Sheffield is a research university with a global reputation for excellence. We're a member of the Russell Group: one of the 24 leading UK universities for research and teaching.