Department to play a key role in new digital manufacturing research centre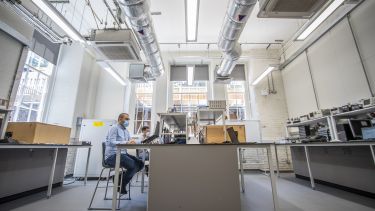 Today's announcement confirmed the £25 million investment in five new research centres, funded by the Engineering and Physical Sciences Research Council (EPSRC) on behalf of UK Research and Innovation (UKRI) and its Industrial Strategy Challenge Fund (ISCF). 
The new centres will focus on helping the UK's manufacturing industry become more productive and competitive through innovation and adoption of digital technologies. 
Today's announcement named the University of Sheffield as a key partner in the Research Centre for Connected Factories, cementing Sheffield's role in leading digital manufacturing research in the UK.
Led by the University of Nottingham and in partnership with the University of Cambridge, the Centre aims to develop a radical new approach to building the manufacturing infrastructure of the future, based on rapidly adaptable factories, which can autonomously morph into different configurations to best adapt to specific product and volume requirements, supply variations and internal disruptions. Industry partners include Airbus, BAE Systems, GKN, BMW, Nestle, Siemens and Fanuc Robotics.
At Sheffield, the activities for this research centre will be undertaken by ACSE and the Advanced Manufacturing Research Centre (AMRC) with Professor Ashutosh Tiwari, Airbus/RAEng Research Chair based in ACSE, as the lead from Sheffield.
Speaking about the announcement, Professor Tiwari said: "Our Centre will contribute to building and maintaining a resilient and sustainable world-leading manufacturing sector in the UK, that can respond to changing demand by continuously adapting, repurposing, relocating and reusing available manufacturing capabilities. We will deliver an integrated platform of fundamental and translational research with catapult centres and industry to achieve this ambition through smart digital manufacturing technologies."
"As part of this Centre, Sheffield will lead a Research Theme focusing on the development of an in-process monitoring and control infrastructure that is able to provide real-time intelligence on the current and future states of a manufacturing process, thus allowing dynamic task planning to self-adapt to multiple product and process variations. We will also lead an Application Study on rapidly configurable machining processes, focusing on robotic drilling and sensorised fixtures, to enable industrial-scale testing and TRL scaleup."
The University of Sheffield is also leading on The Materials Made Smarter Centre (MMSC), led by Professor Iain Todd from the Department of Materials Science and Engineering.
Through UKRI's Manufacturing Made Smarter Challenge under the ISCF, UK Government has invested £147million, matched by a minimum of £147million from industry, with the aim of delivering a resilient, flexible, more productive and environmentally sustainable UK manufacturing sector.
The Made Smarter programme builds on the Made Smarter Review, an industry-led review led by Professor Juergen Maier, former CEO Siemens UK, exploring how UK manufacturing can maximise benefits from increasing adoption of digital technology through a strong industry and government partnership.
Undergraduate scholarships
Our department offers financial assistance in the form of scholarships and bursaries, in addition to the scholarships offered by the University of Sheffield.