PhD students showcase their research at department symposium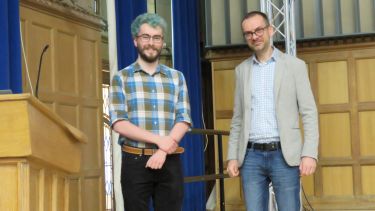 Postgraduate research students (PhD) from the Department of Automatic Control and Systems Engineering exhibited their research with posters and presentations at the PhD student symposium on 24 March 2022. 
The day was organised by the PhD student symposium committee Ethan Canzini, Izhar Escudero Ornelas, Nestor Sanchez Arriaga, Omid Bidar and Taha Al-Saadi and it was introduced by Professor Ivan Minev, Director of Postgraduate Research. The day featured a number of student presentations on variety of topics, keynote talks and prizes for best presentation and poster. 
Starting the day was Spencer Moore who went onto win the best presentation award, with his research Implantable Technologies for Epileptic Seizure Detection and Suppression. It investigates how implanting a small device can cool brain tissue to help people suffering from neurological conditions such as epilepsy. 
Also on medical technologies, Nicholas Hagis presented Monitoring of hand function enabled by low complexity sensors printed on textile explained how sensors can be 3D printed onto a glove to measure motion and strength of hand muscles in patients with Motor Neuron Disease. 
Oswaldo Escudero presented Modelling Interdependencies in an Electrical Motor Manufacturing Process Involving Deformable Material which proposes a computational framework to model interdependencies in the complex manufacturing of electrical machines. The research aims to identify defects early on in the manufacturing process and reduce the number faults in electrical machine production. 
Omid Bidar presented Turbulent Flow Reconstruction Using Sparse Data which proposes a new model with data-driven technique to reconstruct turbulent flow in engineering applications such as in aircraft, rather than using experiments or computational fluid dynamics. 
Juan Guerrero presented Nonlinear Model Predictive Control based on Real-Time Iteration Scheme for Wave Energy Converters using WEC-Sim, which proposes a new control strategy to maximize the amount of energy of wave energy converters extracted from the ocean waves. 
There were also keynote presentations from staff from the Department of Automatic Control and Systems Engineering including Professor Keith Jackson on entrepreneurship for PhD students and Dr Anthony Rossiter who gave an introduction to Model Predictive Control and good presentation practice. 
The prizes for the best posters were awarded to Marco Pontin and Lily Tyszczuk Smith. 
Find a PhD
Search for PhD opportunities at Sheffield and be part of our world-leading research.