Sheffield research student wins award at international robotics conference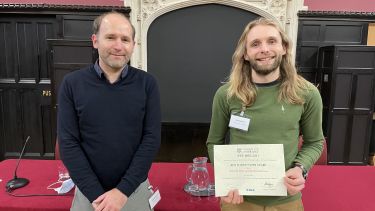 Ed Bray, a PhD student in the Department of Automatic Control and Systems Engineering, has won the award for Best Student Paper at the IEEE International Symposium on Multi-Robot and Multi-Agent Systems held at the University of Cambridge on 4 - 5 November 2021. 
Ed's research paper, Distributed Self-Assembly of Cantilevers by Force-Aware Robots, investigates how a large group of robots could be used in certain scenarios, such as searching underneath the wreckage after a natural disaster. 
It introduces innovative algorithms by which robots self-assemble into a cantilever structure that could span large distances such as across a canyon, while only being supported at one end. The robots measure the forces that occur within the growing structure to ensure it does not collapse.
The paper presents computer simulations that show the advantage of allowing multiple robots to move at once; the resulting cantilevers are just as long and robust but are built much faster than if robots moved one at a time.
Ed's research also demonstrates how such robots could be built using 3D printed parts, magnets, and force-sensitive resistors. 
The research was supervised by Dr Roderich Groß who leads the Natural Robotics Lab at the University of Sheffield.
Download the research paper Distributed Self-Assembly of Cantilevers (PDF 472KB)
Find a PhD
Search for PhD opportunities at Sheffield and be part of our world-leading research.