When you join our department you'll also get comprehensive training to help you develop the skills and knowledge you need to be a successful researcher.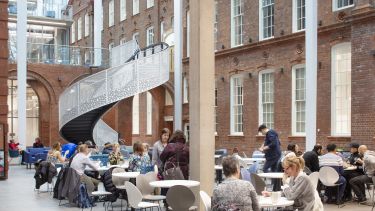 Study your PhD at ACSE and join our community of researchers with a widely acknowledged reputation for world-leading research. 
As well as your research topic, you'll undertake wider research training that will help you to become a leader in your chosen area, making you an effective researcher and communicator.
---
The Doctoral Development Programme (DDP)
Carrying out pioneering research can be particularly challenging, which is why we have developed the Doctoral Development Programme - a comprehensive training programme to help you develop the skills and knowledge you need to be a successful researcher.
The DDP is a flexible, personalised and integral part of your research degree. You'll complete a common set of activities, training in a wide range of transferrable research skills. You will also undertake subject-specific technical training according to your personal needs. Much of this takes place in the first three months, except for the technical.
You'll be supervised and guided by at least two members of academic staff – the supervisory team – who will be leading researchers in their fields and who will help you to shape the training to your individual needs.
As part of the DDP, you attend weekly seminars by eminent external and internal speakers and our annual research symposium, where you will present your research to fellow students and academics. You'll also attend our research training sessions, including presentation skills, academic writing, mentoring skills, various case studies and much more.
If English is not your first language, English language training is also available.
The DDP will assist you to
develop more awareness of your strengths and weaknesses
monitor your achievements over time
identify goals and the means to achieve them
gain a new perspective on your research topic and ideas about your future career
illustrate your skills and experience to employers in the form of a portfolio of achievement
---
Career planning
Your PhD degree is ultimately an investment in your future career. The supervisory team will help you to enhance your employability, and increase your awareness of development opportunities available whilst studying at Sheffield.
In addition, the University Careers Service fully recognises the needs and interests of international students, providing ample facilities and support to help you through the various stages of seeking employment as you aim to secure your dream job – in the UK or elsewhere. 
A world top-100 university
We're a world top-100 university renowned for the excellence, impact and distinctiveness of our research-led learning and teaching.