Trainee Nursing Associate scoops top prize as Health and Public Services Apprentice of the Year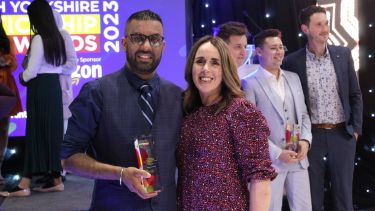 The prestigious award ceremony, which took place on Thursday 18th May 2023 at Magna, Rotherham, celebrates the achievements of outstanding apprentices across the region.
Gurpreet (Preet) Singh, from Rotherham, was nominated for the award by his employer, Sheffield Teaching Hospitals NHS Foundation Trust. Preet began a two-year Trainee Nursing Associate apprenticeship at the Trust in March 2022, having worked previously as a Healthcare Support Worker at Rotherham General Hospital. He currently works at the Royal Hallamshire Hospital, where he supports the nursing team to care for elderly patients with a wide range of health conditions.
Marcus Schofield, National World's Media Sales Director (Yorkshire), presented Preet's award, with judges commenting that Preet used his apprenticeship to upskill and that he continually goes above and beyond as a team member and with patients, describing him as a true advocate of a nursing apprenticeship!
Razia Fulat, Apprenticeship Co-ordinator at Sheffield Teaching Hospitals NHS Foundation Trust, nominated Preet for the award and explains he is a conscientious and dedicated member of the Royal Hallamshire Hospital staff and apprenticeship cohort.
She said: "I nominated Gurpreet for the high standard of care he delivers to patients on an elderly medical ward at the Royal Hallamshire Hospital, as well as supporting his colleagues. Despite the pressures of working in healthcare, Gurpreet will always ask his colleagues if they are okay and has additionally, promoted the Nursing Associate apprenticeship to others and is involved in development of the role. 
---
Since starting the apprenticeship, Gurpreet has excelled, receiving praise from patients and clinical colleagues. What exemplifies Gurpreet is his kindness and ability to reassure. He always strives to provide high standards of patient care and ensures he is able to act as an advocate for all patients demonstrating excellent communication skills when doing so.

Razia Fulat

Apprenticeship Co-ordinator at Sheffield Teaching Hospitals NHS Foundation Trust
---
"Gurpreet is an asset to us as employer and to the University of Sheffield. He provides patient care to an excellent standard, whilst also checking in with his colleagues, and finding time to promote the role he loves. Congratulations to Gurpreet for the award win!"
Gurpreet was supported during the celebrations by his employer Sheffield Teaching Hospital Trust and his Apprenticeship training provider The University of Sheffield. 
When asked about his achievement, he said: "It's the first time I've won - let alone been nominated - for an award like this and I'm really over the moon. 
---
This award is for everyone that has supported me in my career – my team, managers, assessors, my family and parents, and former colleagues. Everyone has been so supportive and pushed me.

Gurpreet Singh

Trainee Nursing Associate
---
"Training to be a Nursing Associate through the apprenticeship route has been really helpful and I'd recommend it to anyone. You're working and studying while you're earning, which makes things so much easier when you have a family and day-to-day life.
"Every day I learn something new and learning matters to me because, if I help anyone in the community or in the hospital, that is worth me doing this course and job. We only leave our good work and words behind us."
Lynne Firth, Director of Apprenticeships at the University of Sheffield's Health Sciences School, said: "Gurpreet is a credit to the university, his employer and the trainee nursing associate apprenticeship programme and has the ability to rapidly progress within his career and make a difference to local patient care."
What is a nursing associate?
A nursing associate is a member of the nursing team in England that helps bridge the gap between health and care assistants and registered nurses. Nursing associates work with people of all ages, in a variety of settings in health and social care. The role contributes to the core work of nursing, freeing up registered nurses to focus on more complex clinical care. It's a stand-alone role that also provides a route to progress into graduate level nursing.
A world-class university – a unique student experience
Sheffield is a research university with a global reputation for excellence. We're a member of the Russell Group: one of the 24 leading UK universities for research and teaching.