The Philippa Cottam Communication Clinic
The Philippa Cottam Communication Clinic opened in 1993. The clinic operates as a speech and language therapy clinic offering services to both children and adults with communication disabilities.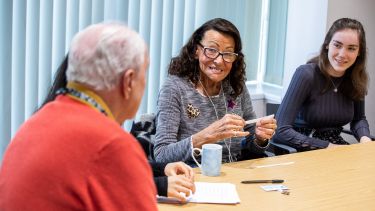 A large amount of research, particularly in the field of neurological disorders of communication, takes place in the clinic.
Learn more about the clinic and its services
Philippa Cottam was a lecturer at the University between 1932 and 1990. She died in 1990 at the age of 33 following a courageous fight against cancer. Her husband David was the architect of the clinic and his design turned a house with various outbuildings into a single integrated building that houses the clinical facilities of the Division of Human Communication Sciences.
---
The Friends of the Philippa Cottam Communication Clinic support the activities of the clinic through the funding of equipment and research. We have two objectives:
To further the memory of Philippa Cottam, her work and her commitment to research and clinical excellence in the field of communication disorders.
To encourage excellence in services provided by the clinic bearing Philippa's name through the provision of equipment for that clinic.
In addition, the Friends of Philippa Cottam Communication Clinic fund a dissertation prize that is awarded on an annual basis to the student of the BMedSci Speech and Language Therapy degree who completes the best undergraduate dissertation.
The chair of the Friends is Dr David Cottam.
The Friends can be contacted via:
Friends of P.C.C.C.
Division of Human Communication Sciences
University of Sheffield
362 Mushroom Lane
Sheffield
S10 2TS
UK​