About the School of Allied Health Professions, Nursing and Midwifery
Our School of Allied Health Professions, Nursing and Midwifery brings together expertise from across our three core areas: human communication sciences, nursing and midwifery, and orthoptics.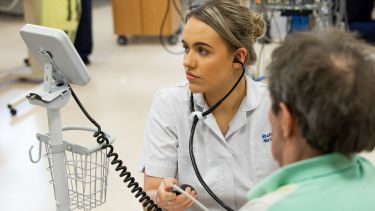 Off
Across these fields, we provide a range of apprenticeships, undergraduate and postgraduate degree courses, and CPD opportunities. Our aim is to train high-quality healthcare workers and support them throughout their working lives.
Those who study with us join a broad and supportive community, led by passionate teachers, clinicians and researchers who help individuals to fulfil their ambitions.
We're leaders in health professions education and training
We are a part of the Russell Group, an association of leading universities committed to producing outstanding research and teaching. Our courses are delivered by a mixture of academic staff and clinical staff, who all bring a wealth of knowledge and experience to help develop excellent healthcare practitioners.
Over a five-year period, we'll be working closely with the Royal College of Nursing, exploring and evaluating how nursing education meets the needs of the NHS workforce. This means that we're ideally placed to offer high-quality education and training, informed by the latest research in the field.
We are one of only two universities in England to train professionals in the specialist area of orthoptics, making Sheffield a true centre of excellence. A high proportion of professional orthoptists working in the NHS today were trained here at the University of Sheffield.
The range of courses that we offer includes options for full-time study, part-time study, and distance learning. Whether individuals are looking to gain their pre-registration qualifications, or are already a qualified healthcare professional looking to develop their skills, we'll have the right option to suit their needs.
Royal Hallamshire Hospital
The School of Allied Health Professions, Nursing and Midwifery is based close to the Royal Hallamshire Hospital. The hospital is home to the Sheffield Medical School and our dedicated Health Sciences Library.
We have excellent orthoptic teaching and clinical facilities within the Medical School. Our relationship with the Royal Hallamshire Hospital eye department means that orthoptics students learn within a high-quality clinical teaching environment.
Clinical Skills Centre
Our Clinical Skills Centre is based at the Northern General Hospital, one of the largest hospitals in the country.  The centre contains mock clinical wards, resuscitation suites, simulated theatres and teaching rooms – a perfect facility for training the health professionals of tomorrow.
The facilities have been chosen to reflect what is currently used in the clinical workplace, and provide support for the teaching, learning and assessment of our students in a variety of clinical and simulated settings.
On-site communication clinic
The Philippa Cottam Communication Clinic opened in 1993 and is based on campus. As a speech and language therapy clinic, it supports children and adults with a range of communication disabilities every day.
Having an active clinic on-site gives speech and language therapy the opportunity to gain valuable practical experience during their studies. The clinic's observation and treatment rooms give our students opportunities to work with people who have communication difficulties and undertake placements.
Patients as educators
Developed in 2004 our Patients as Educators programme gives students as much opportunity as possible to learn from real patients. The programme is internationally recognised as the largest of its kind, with more than 800 patients and volunteers involved.
A global reputation
Sheffield is a research university with a global reputation for excellence. We're a member of the Russell Group: one of the 24 leading UK universities for research and teaching.