Strategic Research Alliance with the Royal College of Nursing
We are delighted to be working with the Royal College of Nursing on a five-year (2018-2023) Strategic Research Alliance (SRA).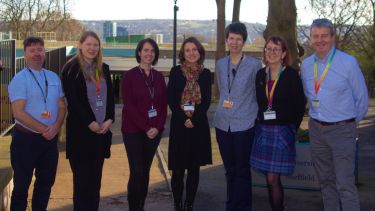 The SRA will conduct a programme of research activity, supporting the development of nursing research evidence and research capacity. Ultimately, the work will seek to influence public policy and promote better outcomes for the population and the NHS workforce.
The core objectives of the Strategic Research Alliance are as follows:
To produce excellent international quality research and evidence reviews that will inform national and international nursing and health practice and policy, thus benefiting patients, families, health professionals and health outcomes;
To disseminate and share research findings to inform developments in education, practice and policy designed to improve nursing and health care;
To enhance public and user awareness of nursing issues;
To work alongside users, carers and stakeholders to ensure that the activities are significant, meaningful and timely
The work will be organised under three key themes: Workforce; emerging nursing roles; building nursing research capacity.
Major pieces of work include subjects such as advanced nurse practitioners, nursing associates, continuing professional development and safe and effective staffing.
We have also run seminars and funded several PhD and clinical scholarships to develop the next generation of nurse researchers.
A global reputation
Sheffield is a research university with a global reputation for excellence. We're a member of the Russell Group: one of the 24 leading UK universities for research and teaching.