Stephen John Thompson - A lifetime dedicated to volunteering and adventure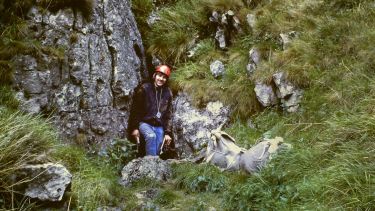 Throughout his time studying at the University of Sheffield, Stephen John Thompson, or Steve to his friends, not only gained a Chemistry degree but a passion for outdoor pursuits. Cultivated by the Sheffield University Speleological Society (SUSS), Steven established an interest in mines, which led him to join the Peak District Mines Historical Society after concluding his studies.
Steve relocated to Northamptonshire for a role as an industrial chemist. Whilst there, his interests in gliding and mountaineering also took off. After suffering a heart attack in 2003, Steve took an early retirement and followed his love for outdoor activity to a greater degree. He would often return to the Peak District, camping in Bakewell and volunteering as a Peak Park ranger. 
In his later years, his health prevented him from going underground himself. However, Steve always encouraged others to keep exploring new areas and he also focussed on archival work, his Chemistry degree often proving useful when identifying the minerals found in the field.
Steve is remembered fondly by his friends for his dedication to research and outdoor pursuits, particularly his nearly 50-year involvement with the Peak District Mines Historical Society. At the time of his passing, Steve was fulfilling both the role of Secretary and newsletter editor.
---
A highly intelligent and knowledgeable man, something of a polymath, who was enthusiastic about his interests and generous with his knowledge. He undoubtedly cultivated an image of a somewhat unconventional character who-quoting a few of his Taddington friends - 'lived his life in his own way', 'ploughed his own furrow', was rather 'idiosyncratic'. He would have appreciated being remembered as such."

Ray Slack

Dedication on the Peak District Mines Historical Society Newsletter
---
In his Will, Stephen left an unrestricted gift of £5,000. After careful consideration, the decision was taken to support the University's Parkinson's Disease research. This will enable the team to accelerate their remarkable research into this devastating disease bringing them closer to a crucial breakthrough sooner. Alumni, staff and friends of the University have raised over £500,000 to support our Parkinson's appeal.  
Leaving a gift in your Will
If you would like further information about leaving a gift to the University in your Will, please contact David Meadows. David is our Senior Philanthropy Manager for Legacies and a Sheffield graduate himself. He would love to have a confidential chat with you about legacy giving or your specific wishes.
Telephone: 0114 222 1073
Email: d.meadows@sheffield.ac.uk