Taking on Couch to £5K - Caroline Brooks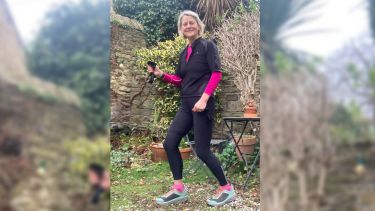 What made you choose to sign up for the Couch to £5K challenge?
In the lull between Christmas and New Year, the Couch to £5K email hit my inbox and I signed up straight away. I needed something to give me a push.
I have been a runner for over 20 years. I managed to make running a habit - it fitted in with small children, I could run without planning, preparation or cost (other than my kit) and I enjoyed starting the day having already achieved something, something that put me at ease and got me outside. 
My running has ebbed and flowed but not much, injuries came and went, niggled, ached and irritated but never lasted too long. I was a runner and it worked for me.
In Spring 2021 I got a knee injury that almost halted my running. I took to running a mile and then walking but it didn't ease. It got more painful and I had to stop running completely at a time when I really needed to boost my wellbeing with an outdoor run. I've entered the Couch to £5K to try to get moving again after this injury and to get outside. 
I was up to 1.5 km in mid-January when my knee had a relapse. After two weeks of rest I was out again this morning and ran for 1km before strolling home. I was breathless and felt graceless but pleased, I'm back on track and putting my best foot (knee) forward.
What does fundraising for Genetic Disease Research at the University of Sheffield mean to you?
I work with small children and families so I can see how Genetic Disease Research can have a massive impact on the lives of families and I hope that a commitment to raise money will make me stick with the training and reach the 5K goal.
---
Would you like to support our runners during their challenges? Visit the Couch to £5K for Genetic Disease Research JustGiving page to donate now.