Taking on Couch to £5K - Megan Strutt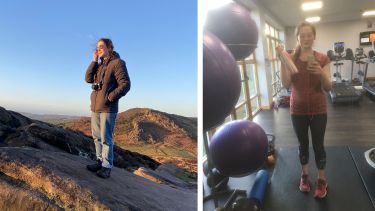 What made you choose to sign up for the Couch to £5K challenge?
I wanted to push myself outside of my comfort zone and try something new. I'd considered doing Couch to 5K in the past but had never gone through with it. Knowing that by signing up for the challenge I'd be raising money to help fund ground-breaking research and supporting Sheffield's researchers in having a life-changing impact on those suffering from genetic diseases was incentive enough for me.
Having finished my studies at Sheffield back in June, I've found that I miss being a part of a vibrant university community. The Alumni Relations team has made me realise that graduation doesn't mean that I've left that community behind. This challenge seemed like an ideal way to stay connected by helping to raise money for such an important research.
What does fundraising for Genetic Disease Research at the University of Sheffield mean to you?
It's amazing to think that the money we raise through this challenge will support research with a worldwide impact, and change the lives of both individuals with genetic disorders and of their families. The potential of such research is astounding and it's great that the Couch to £5K challenge offers everyone a chance to get involved and support the research - either by sponsoring someone doing the challenge or by taking on the challenge themselves. I'm certainly grateful for the opportunity to do my bit to help the cause.
How do you feel about taking on this challenge?
I was quite apprehensive at first. I've never enjoyed running - back in school PE lessons, I'd be the one at the back huffing and puffing and trying to hide my bright red face - so I surprised myself when I hit send on the sign-up form. But I feel so motivated to complete the challenge - knowing that I'm doing it to raise money for such a worthwhile cause, rather than purely for myself, definitely holds me accountable and motivates me on days when I'd rather stay at home in the warm! 
I'm very grateful to those that have donated to my Just Giving page - knowing I've got this support from my friends and family really motivates me too. I've only completed the first week of the challenge, but I'm proud of how far I've come already - it's really rewarding to notice that with each day of the challenge I complete, it feels that bit more natural and I can run for longer. I'm actually really enjoying it!
Do you have any advice for your fellow alumni who might be considering taking on the challenge?
If you're considering it, you should definitely go for it!
I was nervous about signing up, and I had my doubts as to whether I'd be fit enough to even take on the challenge, but the couch to 5K plan really eases you into running gently. I'm so glad I signed up to the challenge - it's so rewarding to know I'm raising money to help fund ground-breaking research whilst being able to notice my own progress and improve my fitness and mental health, too. If you've been looking for something to motivate you to get a bit fitter or push yourself out of your comfort zone - look no further! If a non-runner like me can do it, so can you! 
---
Would you like to support our runners during their challenges? Visit the Couch to £5K for Genetic Disease Research JustGiving page to donate now.