Dr Monica Cheale - A life committed to helping others
Dr Monica Cheale was awarded a scholarship when she studied at Sheffield in the 1950s. Now in her Will, she leaves a gift to support students in that same position.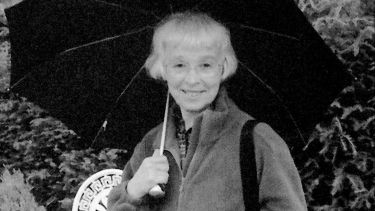 Monica studied for a medical degree at the University graduating in 1959. Whilst a student, she involved herself with sailing and reading but found her true calling was in writing literature and poetry. 
After leaving Sheffield, Monica specialised in geriatrics throughout her medical career. She spent much of her life living on the North-East coast, in what she described as "a crumbling house…with 4 cats", often walking, painting and writing poetry. During her lifetime, she had a number of poems published including her book of poetry The Potting Shed in 2003.
In later life, Monica returned to education in the North-East. She studied for a PhD at Newcastle University and also studied Russian at Northumbria University, after being inspired by creative writing courses.
In more recent years, Monica reminisced to a student caller that she loved her time at Sheffield and that it steered her into her career. She said she didn't study medicine to make money but to help people. And as she had received a scholarship herself, she wanted to continue to help others in the same position she had been. 
Sadly, Monica passed away suddenly but peacefully in Edinburgh Royal Infirmary in September 2019, aged 84 years. In her Will, Monica generously leaves Sheffield over £20,000. This money will go to scholarships for Medical students, providing support for disadvantaged but talented undergraduates. A friend said Monica had been delighted to be able to leave money to the University where she had studied.
---
Hello, my name is Calvin and I've just started my Medicine degree at Sheffield. I want to start by stating how grateful I am to receive this scholarship and to thank Monica for allowing such opportunities to happen.

I grew up in Bradford and studied my first degree in Manchester before realising I wanted to study medicine. I was well aware of the extra costs involved but thought that this was something I was just going to have to accept. I applied for this scholarship and I only found out that I would be receiving it just a week before I was due to start. I was already excited and looking forward to starting my new degree but after hearing that I would receive the scholarship as well; I was ecstatic. It was the perfect boost in morale to kickstart my new career.

The scholarship has made my studies easier as I no longer have to worry about the funding gap that I was dreading. I am an aspiring doctor and would love to specialise in oncology. Becoming an oncologist is my dream, and therefore, I plan to take this opportunity that Monica has given me to really focus on my studies. 

Again, I am truly grateful for Monica's generosity and would like to thank her again for her support.

Calvin Pang

Current medical student and one of Monica Cheale's scholars
---
If you feel inspired by Monica's story, please donate today to support students.

If you would like further information about leaving a gift to the University in your Will, please contact David Meadows. David is our Senior Philanthropy Manager for Legacies and a Sheffield graduate himself. He would love to have a confidential chat with you about legacy giving or your specific wishes.