Welcome to the Class of 1970
Welcome to the Class of 1970's reunion page. Congratulations to our alumni celebrating 50 years since graduating from the University of Sheffield.
Welcome!
Alumnus Gareth Capner (BA Town and Regional Planning 1968, MA Town and Regional Planning 1970), has some words of welcome for the Class of 1970 as he shares his memories of Sheffield.
Memories
See how many familiar faces you can spot from this nostalgic collection of photos and memories from the Class of 1970. With special thanks to all the alumni who contributed.
Rag week was an experience, staying up all night to decorate a float and then taking part in the parade. Twikker – the Rag mag, always a good laugh. The pyjama dance in Cutlers Hall and then the long walk back to digs via Frog Walk.
Norma Makin (née Crabtree)
(BSc Chemistry 1970, BEd Education 1971)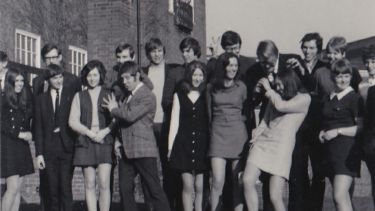 Junior Rag Committee 1969
Dr Graham Brisbane
(BEng Civil Engineering 1970)
Facts and figures: 
Price of: 
a loaf of bread 9p
a pint of milk 19p 
a pint of beer 26.5p 
a litre of petrol 7p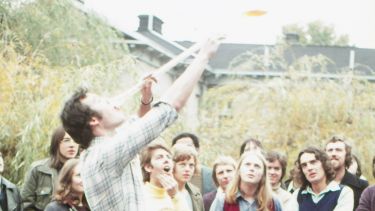 The Sheffield Yard of Ale 1969
Dr Graham Brisbane
(BEng Civil Engineering 1970)
Facts and figures: 
The Prime Ministers at the time were Harold Wilson (Labour) and Ted Heath (Conservative)
The average wage at the time was £1,080
Three fantastic years with memories galore, which have hardly faded after 50 years!

John Bitton
(BEng Civil and Structural Engineering 1970)
Fact and figures
Chelsea won the FA Cup at Old Trafford
A Boeing 747 landed at Heathrow Airport - the first jumbo jet to land in Britain
Paul McCartney announced he was leaving The Beatles
The third Isle of Wight Festival takes place with appearances from Jimi Hendrix, The Who, The Doors and Joan Baez
A life-changing experience was seeing The Who in the Lower Refectory. At the end of the set Pete Townhend smashed his guitar and Keith Moon demolished his drum kit. It was so loud and wild. I had never seen anything like it before, and I was hooked!
Professor Philip Marsh
(BSc Genetics & Microbiology 1970)
The 1969 Rag spider
John Bitton
(BEng Civil and Structural Engineering 1970)
In some ways, your experience of being a Sheffield student in the 60s and 70s is similar to the experience of students today. But in others, it's very different.
For many, the rising cost of living means higher education comes at a particularly high price. Rent, food and bills, textbooks and laptops, travel costs and field trips all add up. And so, for students from lower-income and disadvantaged backgrounds, these costs become overwhelming and prevent them from fulfilling their true potential.
As the class of 1970, you can help change this by supporting a scholarship for a talented student hopeful of studying at Sheffield.
Supplementary
Navigation