Welcome to the Class of 1980
Can you believe it's 40 years since the Class of 1980 graduated from the University of Sheffield? Welcome to your virtual reunion pages, where you will find memories and recollections from your classmates and other features that we hope will give you a good dose of nostalgia. Enjoy!
Welcome!
Professor Graham Ogden (BDS Dentistry 1980) reflects back on his time at Sheffield and invites the Class of 1980 to enjoy these reunion memories.
Memories
Alumni from the Class of 1980 share photos and anecdotes of their time at the University, in this compilation of Sheffield memories. Thanks to all the alumni who have contributed.
The thing I remember most from my years at Sheffield was some great friends and some long, snowy walks back from the Engineering block to Earnshaw in the winter evenings!
Peter Doyle
(BSc Chemical Process Engineering and Fuel Technology 1980)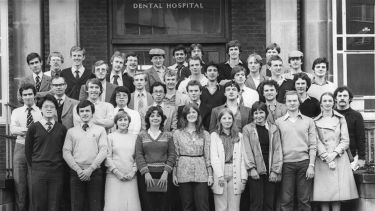 The Class of 1980 Dental students outside the Charles Clifford Dental Hospital
Dr Stephanie Holmes
(BDS Dentistry 1980)
Fact and figures
Price of: 
a loaf of bread 37p
a pint of milk 68p
a pint of beer 35p
a litre of petrol 28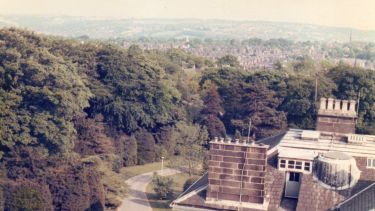 View of Sheffield from Crewe Hall
Peter Woodcock
(BA English Literature 1980)
Fact and figures
The Prime Minister at the time was Margaret Thatcher (Conservative)
The average wage at the time was £4,542
The first Children in Need telethon was broadcast
I have fond memories of helping with a riding project for those with disabilities. I drove a minibus out to the countryside and had numerous enjoyable Wednesday afternoons helping the children on the ponies. It never seemed to rain, and everyone was always laughing and smiling.
Susan Willetts (née Abraham)
(Ancient History and Classics 1980)
Fact and figures
Super Trouper by ABBA was the best selling album of 1980
England won the 86th Five Nations Championship
The video game, Pac-Man, was released
Star Wars: The Empire Strikes Back opens in cinemas
I loved being at Sheffield, the city was wonderful and the people so friendly. My time at Sheffield was a very special time in my life. I still keep in touch with most of my MA group.
Jane Fawcett (née Richards)
(BSc Botany and Geography 1975, MA Landscape Design 1980)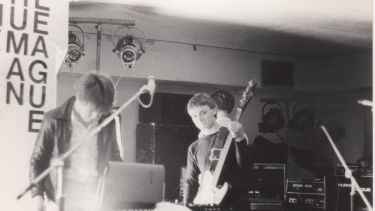 The Human League
Martin Fry
(BA English Literature 1979, Honorary DMus 2012)
Support scholarships
In some ways, your experience of being a Sheffield student in the 70s and 80s is similar to the experience of students today. But in others, it's very different.
With no state-funding or maintenance grants available, the rising cost of living means higher education comes at a particularly high price for many students. Rent, food and bills, textbooks and laptops, travel costs and field trips all add up. And so, for students from lower-income and disadvantaged backgrounds, these costs become overwhelming and prevent them from fulfilling their true potential.
As the class of 1980, you can help change this by supporting a scholarship for a talented student hopeful of studying at Sheffield.
Supplementary
Navigation