Fieldwork and gaining experience
Studying archaeology in Sheffield offers you unique opportunities not only to get involved in practical research and fieldwork, but to share your discoveries with the wider community.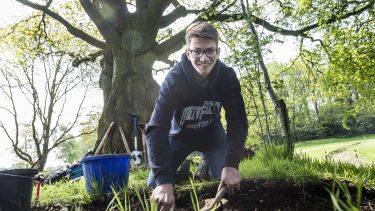 Off
We believe in sharing our research with the local community. In studying archaeology at Sheffield, you'll not only discover the past but help to bring it back to life to share with the wider world.
If you go on to build a career in bringing heritage to the public – for example in a museum or with historic buildings – the experiences you'll gain studying at Sheffield will give you a unique advantage in the job market.
---
Fieldwork and practical experience
At Sheffield, you will combine your library studies with field survey, excavation and laboratory analysis. You will learn excavation techniques, geophysical surveying, and how a field project is organised. You will also learn to analyse and interpret material evidence and see how different specialists work together.
All the practical experience you gain is recorded in your Archaeology Skills Passport, endorsed by the Chartered Institute for Archaeologists.
Single honours students receive a minimum of six weeks practical training and experience in their first year, either in the field, the laboratory, or the workplace.
Dual honours students can undertake fieldwork and practical experience in their optional modules.
You will get the opportunity from the start to get in-depth practical experience of archaeological fieldwork as part of your course, and also be able to actively engage with staff research projects, lab work or on excavations. You can also take work-based learning opportunities offered in the department such as the Work Placement module in Year 3, or with our help, you can spend a year working in the profession as part of the Degree with Employment Experience.
---
Sheffield is set apart in the opportunities it offers for fieldwork both as part of the course and during the summer. The practical skills that we are taught during term time allow us to take part in important projects at iconic sites across the world.

Excavations are not only places to learn more about archaeology, they also provide opportunities to meet new people, experience new cultures, and see parts of the world through a unique perspective.

Tom Maltas

BSc Archaeology
---
Students and the community
We believe that the insights and discoveries of our academics should be shared readily with our local communities and the wider world, and we run a programme of events to do just that.
We open up the discovery of the past to the public in our area, helping them get a handle on the history that feeds into their present-day identity. We work with schools and encourage young learners to set their sights high and discover all they can about their culture and themselves.
---
In my spare time I am part of a local volunteer group who have received funding from Sheffield City Council to launch Sheffield's first archive of feminist history. This archive contains physical artefacts and oral histories.

During my time in Sheffield studying archaeology I was involved in many community outreach projects in Sheffield and on my ERASMUS exchange in Sweden, where I learned that it isn't just academics who 'own' the past; it really belongs to the community.

This has really stayed with me since I graduated and has inspired me to become involved in community projects and to encourage others to do the same and to take ownership of their heritage.

Emma Nagouse

BA Archaeology, MA European Historical Archaeology
---
Some of our active community projects include:
Archaeology in the City - a student-run volunteer outreach programme from the Department of Archaeology at the University of Sheffield. Through this programme, students work with schools and community groups with the aim to make archaeology accessible to everyone in Sheffield and beyond.
Archaeology Matters - a core module for our second year single honours students (and optional for dual honours). Students work alongside local community groups to develop their research skills and understanding of the cultural, ethical and professional contexts of archaeological research and heritage conservation, through a collaborative field project.
Dig It! - a programme run by the department to provide local school students with the opportunity to try out a range of practical archaeological techniques and make contributions to our research.
---
Student groups and societies
Outside of the department, there are plenty of opportunities to get involved with a variety of student-led groups and activities including:
---
Short courses and events
There are many opportunities to further your learning through our series of short courses and informal lectures and talks. Find out more about:
Tuesday lunchtime lecture series: organised by PhD students, these weekly talks give an overview of our current research.
Archaeology and ale: a free monthly talk featuring industry guest speakers held in the Red Deer pub in Sheffield.
Short courses: open to students, staff and the public, these three-day programmes provide an in-depth introduction to the skills and techniques of particular research fields in archaeology. Find out more.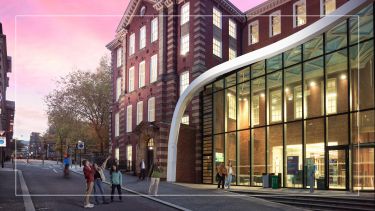 Visit us
Discover what sets Sheffield apart at our undergraduate open days on the Saturday 21 October or Saturday 18 November.