The Wellbeing Awards 2020/21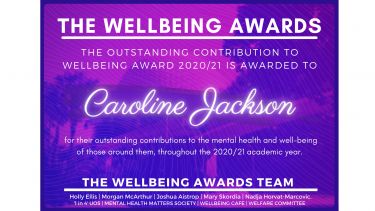 The Welling Awards are a University of Sheffield initiative that are run by students for students to celebrate the achievements of the student body throughout the 2020/21 academic year. However, for the first time ever a group of students have organised a celebration to recognise those who have helped and supported them throughout this difficult year. 
We were happily informed by the Wellbeing Team that student Steve Hollings had nominated the Archaeology Department to be shortlisted for an award, stating:
For bringing together the student cohort in a time the University is trying to close down the Department and for fighting for the future of Archaeology at Sheffield

Steve Hollings

Archaeology Student
The entire Department of Archaeology is proud to announce that the Head of the Department, Professor Caroline Jackson, received the "Outstanding Contribution" 2020/21 Wellbeing Award which is a clear demonstration of her exceptional leadership and care for students, especially during the difficult time the department is currently facing. 
The Wellbeing Awards evening can be viewed via the following link (it is currently only available to those with a University of Sheffield email address).
Further information on the Wellbeing Awards can be found here.
A world top-100 university
We're a world top-100 university renowned for the excellence, impact and distinctiveness of our research-led learning and teaching.