Sheffield Library of Aerial Photography Digitisation Project
The Sheffield Library of Aerial Photography (SLAP) is an extensive archive of aerial photographs, primarily dating to the 2nd half of the 20th century.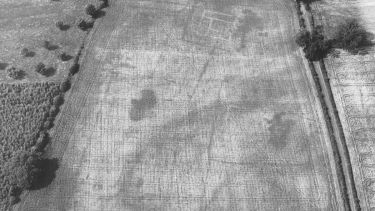 The collection primarily contains photos covering the midland counties of England and Yorkshire although there are also photographs from other parts of the U.K. and there are several smaller collections of aerial images covering Italy, Germany and Israel. Overall the collection contains over 12,000 images alongside correspondence, related literature and maps. The majority of images are held in print form, whilst a number are also in 35mm slides and medium format glass plate slides. The majority of the collection is the result of bequests from two dedicated amateur archaeologists; Derrick Riley and William Baker. 
Derrick Riley first began photographing sites during the late 1930s when he was in the RAF. After the war he moved to Sheffield and to a career in the steel industry. In the 1970s he returned to a very active role in aerial photography in archaeology and most of his photos date from the 1970s and 1980s. He published many books and articles including his early study on the archaeological landscapes of South Yorkshire and Nottinghamshire (published as Early Landscapes from the Air in 1980). More broadly his work also extended over into areas of Lincolnshire, Derbyshire and North and East Yorkshire. He also collaborated with many other specialists abroad and often flew in Israel and the Near East as well as in many European countries including Germany and Italy.
William Baker who flew from the 1950s through to the 1970s primarily focused on the landscapes of the valleys of the Thames, Warwickshire Avon, and Severn. A particular focus of his work were the roman landscapes of the West Midlands and Welsh Marches, covering sites including Kentchester, Leintwardine and Wroxeter where he had a long involvement with the excavations.
The SLAP digitisation project aims to fully catalogue and digitise the archive making it accessible to students, academics and researchers. The digitisation project has also provided an opportunity for students and volunteers (notably those of the Hunter Archaeological Society) to develop new skills in archiving and working with aerial imagery. The project has been made possible through a donation by the Robert Kiln Trust which has been a generous benefactor for the University of Sheffield Department of Archaeology over the past two and a half decades. Whilst the initial aim of the project is to fully catalogue and digitise the archive, a further key aim is to develop a website where the archives contents can be accessed publicly. 
Below are links to the catalogue for Britain which lists approximately two-thirds of the archive's British content:
Flagship institutes
The University's four flagship institutes bring together our key strengths to tackle global issues, turning interdisciplinary and translational research into real-world solutions.