Great Latin American Women at the Festival of Social Science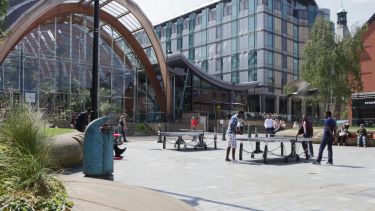 The exhibition, held in Sheffield's Winter Gardens from 2nd to 9th November 2019, juxtaposed historical, gendered images from Billiken magazine against inspiring images from the 100 Grandes Mujeres Latinoamericanas illustrated children's book.
After nearly 100 years of extolling the exploits of Great Men, with this book, Billiken is celebrating its centenary by paying homage to 100 Great Latin American Women.
Together with Euhen Matarozzo, director of Biliken, Lauren led an international team of creative industries professionals to produce the book which showcases the diversity of experience of Latin America's leading women. 100 Grandes Mujeres Latinoamericanas is co-authored by Lauren Rea, Ariela Kreimer (Argentina) and Regina Solis, (Guatemala) who is currently studying at the University of Sheffield for the Erasmus MUNDUS MA Crossways in Cultural Narratives.
On Saturday 2nd November, Lauren, in conjunction with artist Laura Page and Ignite Imaginations, ran an art workshop in which children were invited to create their own inspiring image of a Great Woman, famous or not, and from anywhere in the world. Around 40 children created customised paper dolls to form a wall of Great Women to add to the exhibition. Footballers proved a popular choice, and Florence Nightingale, Amelia Earhart and Frida Kahlo shared space with the children's mothers, grandmothers and teachers.
A world top-100 university
We're a world top-100 university renowned for the excellence, impact and distinctiveness of our research-led learning and teaching.