The HumLab acts as catalyst for interdisciplinary research on language, music and cognition, and houses specialist equipment and facilities.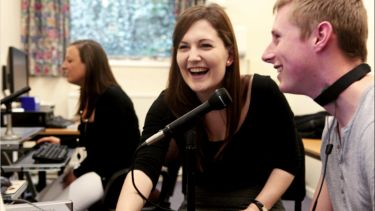 On
Our interdisciplinary research investigates the complexity and creative expression of the human mind. Sheffield is strongly committed to interdisciplinary work, and the HumLab promotes multidisciplinary and interdisciplinary research centred on areas that are core to the Arts and Humanities.
Supporting Arts and Humanities research
The HumLab makes it possible for colleagues from English, Languages & Cultures, Music and Philosophy, who share theoretical and methodological interests and concerns, to join up their research and let their disciplines thrive on cross-fertilisation. We use the laboratory-based methods employed in the study of language and music, and apply them to other disciplines, such as literature, film studies and the visual arts. 
Supporting cognition research
Cognition research helps shape our understanding of music and language and vice versa. By pursuing joint research hypotheses from different angles, it enables us to go beyond incremental progress within a discipline. 
The type of empirical and quantifiable data that the equipment housed in the HumLab makes available facilitates interdisciplinary communication and opens up avenues for collaboration with colleagues from across the university - most notably Cognitive Science, Neuroscience and Computer Science.
---
Our lab is equipped with state-of-the-art technology allowing our researchers and students to push the boundaries of their disciplines.
Lab areas
The HumLab has three lab areas:
Main lab with soft area and consenting space
Sound booth and computer island
Eye tracker room 
Equipment
The HumLab contains the following equipment:
Audio recording equipment
Response pads (x5)
Galvanic skin response system
Eye-tracker
Electroglottograph
Aerodynamic system
Laptops (Lenovo Yoga) (x5), (MacBook Pro) (x1)
Tablets (Lenovo 10) (x3), (iPad Air 2) (x1)
There are also 5 desktop computers available with the following software:
MS Office
Experimental software: EPrime, PsychoPy, OpenSesame
Audio and video analysis software: Audacity, Praat, Adobe creative suite
Statistical analysis software: R and RStudio, SPSS
360 tours
Main lab
Sound booth
---
HumLab staff have many different areas of expertise across several varying interests.
Languages
Neil Bermel

My research looks primarily at inflectional morphology (the different grammatical forms of lexemes).

Currently, my colleagues and I on the Feast and Famine project are looking at ways of describing and evaluating 'non-canonical' paradigm cells in language, where there are competing forms for a single function, or perhaps no form at all where one is expected. My research compares corpus and handbook data to experimental data from native speakers of highly inflected languages such as Czech.

Our goal is to develop a complex understanding of the place of unexpected variation and gaps in language usage, bringing in data from corpora, computational modelling, child language, adult language and language planning.

Robyn Orfitelli

My research is focused on the intersection between first language acquisition and generative syntactic theory. I use a variety of corpus and behavioural measures to experimentally analyse children's acquisition of complex syntactic phenomena.

Recently, I have been interested in understanding the acquisition of a range of A-movement phenomena related to voice, including subject-to-subject raising, passives and middles.

I am working to link patterns in acquisition to systematic cross-linguistic differences in the representation of these structures.

Gareth Walker

I use auditory and acoustic phonetic techniques in combination with Conversation Analysis to analysing recordings of unscripted interaction.

This includes analysing visual aspects of interaction (posture, gaze and gesture). I have published work on topics including turn-taking, turn construction, turn continuation, laughter and the signalling of attitude and emotion in conversation.

I have studied interactions between adults, and between parents and young children.

Christian Adam

I am currently investigating what insights about linguistic phenomena, in particular grammatical aspect, can be derived from a perspective that is based on the metaphor of artificial communication, combined with insights from learning theory.

Conceiving of language as a sequential discriminative process, my goal is to build a computational model consistent with this view and to verify its predictions using experimental and corpus data.

Holly Dann

My research is focussed on language variation in Cornish English. Using socio-phonetic methodologies, I examine the effect of factors such as 'localness', social class, and local orientation on adolescent language use in Cornwall.

Specifically, I combine production and perception methodologies to explore how social meaning emerges through language use.
Music
Nicola Dibben

From an initial focus on how listeners make sense (or not!) of tonal and early atonal music using laboratory-style experiments, my research broadened to look at emotion, meaning and subjectivity in music listening.

My co-authored book Music and Mind in Everyday Life (2009) provides a critical discussion of psychological approaches to music. I was inspired to start writing about popular music while a lecturer at the University of Newcastle-upon-Tyne in 1996, by membership of the Critical Musicology forum (an informal association of British scholars interested in non-formalist approaches to music analysis), and a subsequent British Academy Postdoctoral Fellowship.

I started investigating popular music's role in the construction and experience of gender and identity, and, later, on constructions of nature, technology and landscape in popular music.

These interests lead to a book on Icelandic musician Björk (Björk, 2009), resulting in a working collaboration on Björk's ground-breaking app-album Biophilia (2011) – now part of the collection of the Museum of Modern Art, New York, and an educational program run by the Nordic Council.

Renee Timmers

My current research projects investigate ensemble performance, cross-modal perception of music, and perception and expression of emotion in music.

My aim is to work towards applications of music psychological findings, including investigations of perception of emotion in listeners with hearing impairment, and ways to improve teaching and learning of expressive performance of music.

Shen Li

I am working as a student representative of the Music Department in the Humlab. I am also a third year PhD student studying Psychology of Music.

My current project focuses on the perception and production of piano timbre from a performer's perspective, which covers several interesting issues such as the conceptualisation of piano sounds, the mind/body relationship as a pianist, and the possible implications in piano pedagogy.
Philosophy
Luca Barlassina

I work in the philosophy of psychology. I combine philosophy and cognitive science to discover how the mind works. I am particularly interested in affective, social, and moral cognition.

Gerardo Viera

My main research project investigates how animals like us come to think about, experience, and coordinate their actions with the timing of events around them. That is, how we come to think about and experience time.

I also have active interdisciplinary research projects concerning consciousness, attention, and variability in the precision of early visual processing; animal cognition; causal reasoning and the self; and core work in the computational theory of mind.
English
Gareth Walker

I use auditory and acoustic phonetic techniques in combination with Conversation Analysis to analyse recordings of unscripted interaction. I have published work on topics including visual aspects of interaction (posture, gaze and gesture), turn-taking, turn construction, turn continuation, laughter and the signalling of attitude and emotion in conversation. I have studied interactions between adults, and between parents and young children. I have also studied how people with mild cognitive impairment and people with dementia interact with an intelligent virtual agent (a talking head on a computer screen).

Ranjan Sen

The HumLab is a vital resource for my teaching and research plans. Each year, I train my final-year Psychology of Languages students in the Lab, supporting them in using EPrime 3.0, the specialist experimental design software, to write a psycholinguistic experiment from scratch, and to obtain and analyse the results. Some students go on to use these resources in their undergraduate or postgraduate dissertations, and one such was awarded the Linguistics Association of Great Britain undergraduate dissertation prize for their HumLab project investigating the mental representation of speech sounds in Mandarin Chinese. 

In my own research, I am developing a novel research technique using the HumLab's specialist software for a study to take place with participants in the Lab. The term 'historical linguistics' might conjure images of weighty old tomes, crumbling manuscripts, or impenetrable older forms of language. However, my research explores the logical hypothesis that theories of language change can be tested in the laboratory, replicating the conditions for change in a micro-environment. My project tests the psycholinguistic underpinnings of an increasingly influential model of phonological change (i.e. how languages change in the way they sound) in the laboratory, using Artificial Language-Learning. It innovatively marries theoretical, historical, and experimental research to tackle the understudied role of inaccurate learning as an engine of phonological change.

The initial study for this project is due to take place in 2023 (delayed from 2020 due to the pandemic) and will lead to a larger-scale HumLab-based project over the next five years, using not only the specialist software and computing stations for testing, but also the sound-proof booth in experiments which require high-quality phonetic data using high-specification equipment.
Computer Science
Tom Pickard

I'm a PhD candidate at the Centre for Doctoral Training in Speech and Language Technologies and their Applications, which is hosted in the Department of Computer Science. My research is into ways to enhance the functionality of computational language models when processing figurative language, particularly idioms. Since idiomatic language is a pain in the neck for LMs but a piece of cake for humans, I'm looking to draw inspiration from psycholinguistics and human processing data to improve the computational models.

To that end, I've been using the HumLab's eye tracker to capture the eye movements of people reading sentences containing figurative and literal instances of expressions like big picture, and looking for differences in how these senses may be processed. There are no published eye tracking corpora focusing on idiomatic language, so the HumLab facilities have enabled me to perform these experiments which would otherwise have been difficult or impossible, and to create such a corpus which I hope will be of use to other researchers once I publish it.

I also recently joined the MultiplEYE project, an EU-funded initiative which aims to create a multilingual corpus of eye tracking data; I'm hoping to make use of the HumLab facilities to contribute to this effort to make eye tracking data and research more representative and inclusive of a wider range of languages and demographics.
Flagship institutes
The University's four flagship institutes bring together our key strengths to tackle global issues, turning interdisciplinary and translational research into real-world solutions.