Music lecturer receives prestigious commission from GRM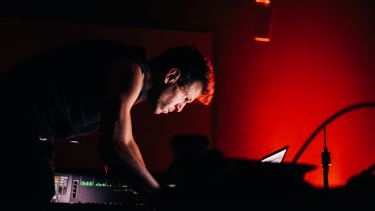 The Groupe de Recherches Musicales (GRM) was established in Paris in 1958 by pioneering composer and researcher Pierre Schaeffer. Around that time, Schaeffer developed an entirely new method for the composition of 'serious' music, using recorded - as opposed to live instrumental - sound.
The GRM became the world's most important centre for this kind of music, now known as electroacoustic, and established a series of dedicated composition studios so that they could invite composers to create new works based on the Schaefferian method. Senior lecturer in music, Adam Stanovic, has been commissioned to work in the GRM studios during April 2020, ultimately producing a new piece of music to be performed in concert the following month.
---
Adam Stanović is an award-winning composer and performer specialising in contemporary electronic music. His works employ a fixed-medium (sometimes accompanied by instruments, electronics, film, and animation), with many exploring relations between pitch and noise. In recent years, Stanović's compositions have received prizes, awards and mentions in just about all of the major competitions in the field, including: IMEB (France); Metamophoses (Belgium); Destellos (Argentina); Contemporanea (Italy); SYNC (Russia); Musica Viva (Portugal); Musica Nova (Czech Republic); KEAR (USA); MusicAcoustica (China).
Adam's works have been heard in over 400 international performances to date, and released on 12 different record labels. Stanović regularly speaks and writes on matters concerning electronic music, and has recently given talks at Harvard University, The University of Oxford, New England Conservatory, Swedish Royal College of Music, Conservatorium van Amsterdam, The Sydney Conservatorium, among others.
---
Adam's recent commission by the GRM recognises his international significance within the field of electroacoustic music, and allows him the opportunity to create a new piece of music in the very same studios where this form of music was first created.
A performance of the new work shall take place in May 2020, to a Parisian audience that still has a great interest in the performance of electronic music. Stanovic has previously worked in the composition studios of the IMEB (France); Musiques et Recherches (Belgium); VICC (Sweden); EMS (Sweden); LCM (UK); CMMAS (Mexico); Holst House (UK), Mise En Place (USA), Bowling Green (USA) and the Sydney Conservatorium of Music (Australia)."
A world top-100 university
We're a world top-100 university renowned for the excellence, impact and distinctiveness of our research-led learning and teaching.