Living well with cognitive impairments through creativity
This project, which is funded by Innovate UK, as part of UK Research and Innovation, will analyse the impact that therapeutic artistic sessions ran by Unforgettable Experiences have on participants.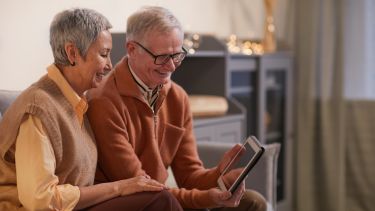 In this project, Unforgettable Experiences and the University of Sheffield will undertake research and evaluation to objectively measure the cognitive, social and emotional gains for older adults with low level and severe mental health, mild cognitive impairments, dementia and neurological conditions who access Unforgettable Experiences' live, interactive therapeutic artistic sessions online.
The team would like to be the first in the world to undertake research to interpret and analyse behavioural insights across a range of online artistic programmes by Unforgettable Experiences.
They will analyse individual changes and interactions and track indicators including: recall of personal biographic skill; and confidence in verbal and non-verbal turn taking. These indicators contribute to improvements in focus, concentration and memory in older adults to help them to live well with cognitive impairments, continuing to develop the confidence and skill to create or adapt new identities for themselves.
This research will objectively determine customer gains in social skills, such as interacting and communicating with others, due to participating in Unforgettable Experiences services. To do this, the team will use non-intrusive video analysis of subtle verbal and non-verbal cues across a wide wide sample of customers in a range of artistic programmes.
Staff
Flagship institutes
The University's four flagship institutes bring together our key strengths to tackle global issues, turning interdisciplinary and translational research into real-world solutions.