Opportunities and Dilemmas of AI Development and Adoption
Enhancing Services Through Emerging Technologies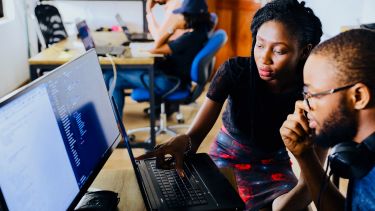 A new phase of the Industrial Strategy Challenges Fund (ISCF) Next Generation Services project being undertaken at Sheffield University Management School, has recently been funded. The project aims to assist service organisations to adopt sophisticated emerging technologies, such as artificial intelligence (AI) and machine learning, in order to improve their productivity and performance and, as a result, the prosperity of regions across the UK.
This important project, led by Professor Fraser McLeay with support from Dr. Tadhg Blommerde and Professor Tim Vorley, explores the adoption of  frontier technologies by legal service providers and their clients. It aims to generate a detailed picture of the opportunities and obstacles associated with the legal function of organisations using advanced technologies. The results will enable strategies to develop to mitigate any challenges and accelerate the wider application of value-adding technological solutions in the future.
The research team is currently conducting interviews with General/In-House Counsel in a variety of organisations, exploring how they utilise technology in their role and how they perceive new technologies can add value to their organisation and its customers or clients. For organisations that have not adopted new technologies, associated challenges are being examined and discussed.
Subsequent research will build upon the initial findings and comprehensively investigate the journey that General/In-House Counsel and Legal Service Providers experience as customers of a technology vendor and in interactions with their customers and suppliers. Activities will include  mapping the customer journey, identifying key touch points which technology can enhance, and  evaluating gaps in the anticipated value provided by a technology and what it delivers in reality.
Presently, the research team is actively seeking participants. If you are working as a General/In-House Counsel or as a Director of IT in a Legal Services Provider or Technology Provider and would like to contribute to this important research, please contact us.  Details of participants and their responses can be kept anonymous. Participants will be entitled to a report of the study's findings.