2020 graduates to begin major research project with industrial world leader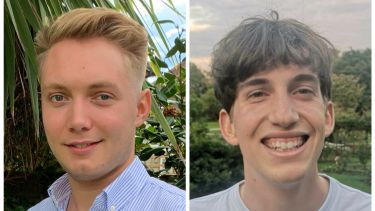 The strategy aims to embed circular economy principles into both product sourcing and manufacture at the scale of global brands to reduce their carbon footprint.
Alex Newman and Ed Platt both finished their MEng with first class honours and have now moved over to their PhD's and are woking with Unilever and Professor Peter Strying on this major new project. 
Alex Newman said:
From an early age I've had a keen interest in all things science. As the time came to choose a degree course, I knew that I wanted to continue studying across all science disciplines. When I was pointed in the direction of Chemical Engineering, I realised there was an option to study an industrially applicable degree without giving up any of the subjects I enjoyed.
Some of my highlights over the MEng programme were the design and research projects in the third and fourth years respectively. While building upon skills taught during the course, the projects helped me to realise that my academic passions lie within process sustainability and modelling while also giving me a taster of working with the Styring Group.
As a member of the class of 2020, COVID-19 certainly made the process of writing a dissertation very unique. In many ways that made the conclusion of our time as undergraduates even more memorable. During my final year I began to wonder what was next for me. After all, as the saying goes, "all good things must come to an end". But, when I got the opportunity to work alongside a company as influential and well respected as Unilever, I knew that for me 2020 was not going to be the end of my academic journey. It was clear from the get-go that Unilever's stance on environmental sustainability aligned perfectly with my own, in a time when it is critical that society reflects upon and reforms the way it handles carbon.
I'm incredibly proud to say that over the next four years I will be a part of the Styring group, working alongside our long-term strategic partner, Unilever, to deliver their new 'Clean Futures' initiative. This industry leading initiative will hopefully forge a path that many other companies will follow, leading to a homecare industry that is more considerate and responsible to the environment.
Ed Platt said: 
My MEng degree in the Department gave me insight into the chemical industry as a whole, with the most valuable experiences stemming from longer term projects, both as an individual and as part of a team. So when I learned of a potential PhD position that had such strong industrial ties and surrounded a section of my degree which I'd found most captivating, it was hard to see an alternative that ticked this many boxes.
2020 for me has been quite a whirlwind, as it has been for many people, but to think since the start of the lockdown I've submitted my master's research project, graduated with a first and began my PhD alongside a company as prestigious as Unilever blows my mind! From the moment I met Alastair Sanderson and Christopher Gibbs of the Unilever Home Care Research and Development team, it was clear that our outlook on the decarbonisation of consumer products were well aligned, which made the prospect of the next 4 years all the more compelling. The announcement of the Clean Futures strategy by Unilever Home Care is truly ground-breaking in terms of the size of the commitment to decarbonising not only their manufacturing processes, but the supply chain as well. 
It is ambitions of this magnitude that will pave the way for many other companies, in terms of moving towards a circular carbon economy, and to be contributing to the team that is leading these changes is very exciting. In terms of my research I'll be looking into the decarbonisation of Unilever's organic feedstocks through CO2 utilisation through means that maintain economic viability.
Flagship institutes
The University's four flagship institutes bring together our key strengths to tackle global issues, turning interdisciplinary and translational research into real-world solutions.