A day in the life of a chemical engineering student

Chalisa Pusitdhikul
Undergraduate Student
MEng Chemical Engineering with a Year in Industry
Chalisa Pusitdhikul, from Thailand, is studying MEng Chemical Engineering with a Year in Industry and tells us about a typical day.
Hello I'm Chalisa, a first year chemical engineering student from Bangkok, Thailand. I chose to study at the University of Sheffield because of the scholarships available and the well-known reputation of the Department of Chemical and Biological Engineering. 
As a chemical engineering student, there's lots of opportunities to get involved with societies and projects such as Women in Engineering, Engineers Without Borders, iGEM and iForge in addition to the technical knowledge and hands-on experience I received from my course, including the Global Engineering Challenge. 
My schedule is quite flexible, allowing me to do things like work part-time as a student ambassador and volunteer at local primary schools at after school STEM clubs. I honestly believe I'm living the perfect student life I always dreamed of and below is an example of a day in my life. 
8:00am 
Wake up and do a short stretching workout before taking a shower. Go to the kitchen and cook breakfast, sometimes with my flatmates if our schedule accommodates.
8:45am 
Meet my coursemates who live in the same student accommodation in the common room to walk to lectures together. From Allen Court this would usually take 10-15 minutes depending on the location of the lecture. 
9:00am  
In lectures, the module lecturer goes through content uploaded onto Blackboard a few days before the lecture. I quite like the flipped learning approach where, instead of a standard lecture presentation, the lecturer provides materials online and then uses the lecture time to encourage discussion among students. This way, I would have my notes ready to add important points that the lecturer highlights. Checkpoint questions are given and solved as a class before the solutions are released after the lecture.
11:00am  
Walk to the Hicks Building for Maths tutorials. These are conducted in smaller groups and involve recapping the content in Blackboard videos and attempting the problem sheet with the module leader's support. 
12:00am  
Lunch at a nearby university outlet, usually the Heartspace Cafe or Diamond Kitchen as I will be able to use the Genius Reward Scheme. However, if I'm at the Hicks building, I would usually head to the Students' Union for a healthy salad bowl at New Leaf or burrito at Grill and Go. 
12:30am 
Head to the iForge for my 3-hour shift. iForge is a student-led makerspace providing free facilities such as laser cutters, CNC, 3D printers, water-jet cutters, etc. for students to work on their course or personal projects. As a rep, I supervise the space, and as part of the publicity sub-team, I create content and manage iForge social media. 
5:30pm  
Engineers Without Borders committee weekly meetings for updates about individual projects and any events coming up. 
6:30pm 
Stop by at Tesco for grocery shopping before heading back to student accommodation to cook dinner. Sometimes I eat-out in the city centre with friends, or in the warmer months buy some takeaway food and have a picnic in Weston Park.
8:00pm  
Head back to The Diamond for Women in Engineering mentorship programme with other upper year engineering students. The mentoring focuses on personal development and also includes CV and cover letter sessions. 
9:00pm  
Stay in the Diamond silent study area to consolidate the day's classes, prepare for the next lecture or work on pre-lab quizzes and post-lab assignments. 
11:00pm
Head back to student accommodation, take a shower and sleep.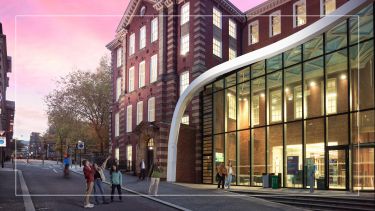 Visit us
Discover what sets Sheffield apart at our undergraduate open days on the Saturday 21 October or Saturday 18 November.