Organic Chemistry and Chemical Biology
We synthesise small molecules with novel biological and medicinal properties and apply chemical principles to understanding the fundamental processes of recognition, mechanism and function in biological systems.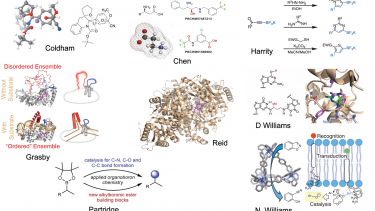 Our research group encompasses expertise in organic synthesis, physical organic chemistry and chemical biology. Our research areas include developing novel methodology and catalysts for organic synthesis, rational drug design, gaining fundamental insights into mechanism, reactivity and recognition  including the mechanistic biology of proteins involved in DNA replication, DNA repair and porphyrin biosynthesis.
We have strong ties with a number of leading companies including AstraZeneca, GlaxoSmithKline,Concept Life Sciences, Sandexis and Syngenta and have established two University of Sheffield spinoff companies Redbrick Molecular and Modulus Oncology.
Major themes
Synthetic organic chemistry - we develop novel synthetic methods for the preparation of complex and biologically active molecules including heterocycles, biological probes, amino acids and nucleotides. This includes organometallic-based asymmetric synthesis, catalysis, novel organoboron and phosphorus chemistry and energetic materials.
Therapeutic molecules - the rational design and synthesis of compounds with significant biological and medicinal properties including antimalarial, anti-inflammatory, antibiotics and drugs to prevent Transmissible Spongiform Encephalopathies (TSEs).
Recognition, catalysis and mechanism in biology - the design of small organic molecules, bioinspired supramolecular systems and modified nucleic acids and proteins to understand the processes of recognition and catalysis in biology and a mechanistic understanding of proteins involved in phosphate diester bond cleavage, DNA replication, DNA repair and porphyrin biosynthesis.
People
For further information about Organic Chemistry and Chemical Biology at Sheffield please see the staff page of individual researchers below.
Professor Richard F.W. Jackson (Emeritus)
Professor Nicholas H. Williams
Members of other research clusters active in organic chemistry and chemical biology:
A world top-100 university
We're a world top-100 university renowned for the excellence, impact and distinctiveness of our research-led learning and teaching.