Made Together: Face-to-face innovation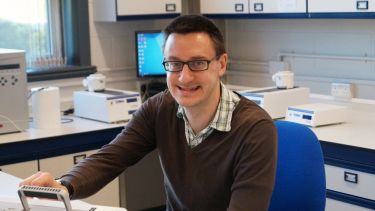 By Richard Brown, Managing Director, and Tom Deakin, Group Research Director, LabLogic Systems Ltd
Originally published in Sheffield Star - the second in their series on the University of Sheffield's Made Together programme
As an international company based in South Yorkshire we're really proud to display the 'Made in Sheffield' Mark, and proud to be a part of the Made Together Programme.
LabLogic Systems Ltd is all about innovation – we develop technology which detects and measures radioactivity and it's used in everything from diagnosing breast cancer to monitoring nuclear safety.
We have offices in the US and have exported to more than 50 countries but there's something special about having our head office here in Sheffield.
There's great talent and skills in the region and we've taken on another 12 people just since July. There's also a buzz. When you go to events with other companies and hear what they're doing, you can't help but come out and feel motivated to do things.
Making these relationships with local companies and being able to discuss issues in person is really important for us. We're a very niche company but the vast majority of our supply chain is in the region.
It's amazing when you find out there's an academic just down the road at the University of Sheffield who is working on a very similar thing. You wouldn't believe the coincidence if it was in a film, but it happens, and, when it does, it can make you feel like it's the region against the world - in a good way.

Tom Deakin

Group Research Director, LabLogic Systems Ltd
The Managing Directors' (MD) Club which both Sheffield universities set up is great because it creates opportunities for these kinds of new relationships by connecting academic and industry experts in specialist fields.
It's helped us make some great contacts over the years, including one with a Doncaster company that, like us, was working in the nuclear industry but had the engineering expertise that we didn't have.
We were a small but growing company and didn't have our own in-house research facility so the University of Sheffield provided us with what we didn't have through a Knowledge Transfer Partnership (KTP) - the national scheme designed to connect growing business with an academic or research organisation and a graduate. Dr Tom Deakin, who originally came to us through the KTP scheme is now our Director of Research! Looking back, that was one of the events that helped shape the business.
The scheme is a three-way thing and the University of Sheffield has benefitted from our expertise too but we've worked with three students from different University departments over the years and it's fair to say that their input produced a massive step change in LabLogic's approach to research and development.
It's been a bedrock of the innovation that we were striving for and has created a lifelong relationship that you could call a 'match made in heaven'. It's also a perfect illustration of what the University's Made Together approach can achieve.