Supervisor training events are planned by the clinical tutor team in collaboration with our neighbouring programmes.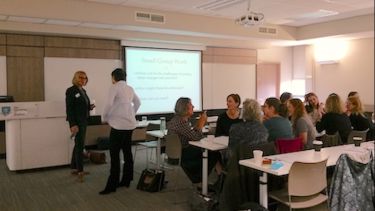 The Supervisor Training and Recognition (STAR) programme has been developed as a national initiative over a number of years. In 2009 it was adopted formally by the BPS and implemented as an accreditation structure for all applied psychology supervision.
There are three forms of supervisor training available:
Introductory/Refresher Events are held each September. They are aimed at supervisors who are new to supervising trainees or existing supervisors who would like an update. 
Initial Supervisor Training Workshops (ISW) consist of 4 training days, attendance at peer supervision meetings and the submission of a portfolio of work at the end of the year. The participants are new supervisors wanting to provide a placement for the Sheffield DClinPsy programme, and more established supervisors who want to refresh their supervisory practice.
Advanced Supervisor Training Workshops (ASW) consist of 3 training days run across the year. These are open to supervisors who completed the ISW and who wish to review their learning in relation to their supervisory practice. 
Mutual expectations between supervisors and the Sheffield DClin Psy Programme
Following the May 2012 HPC/BPS visit we have clarified the training provision for supervisors providing placements for trainees. Training provision includes programme specific Introductory workshops, Initial and Advanced Supervisor Workshops.
HCPC/BPS are focusing on how clinical psychology training programmes ensure the quality of our supervisors. One of the easiest ways of supervisors updating and extending their skills is to attend supervisory training events. Sheffield, Leeds and Hull keep and monitor supervisor attendance at supervisor training events as part of our quality assurance processes for our supervisors. We require our supervisors to update their supervisory knowledge and skills at least every 5 years in order to continue providing trainee placements.
The Sheffield programme aims to support all our supervisors. We have created a mutual expectations information sheet to download, but if you have any queries, please contact Katherine Hildyard.
Dates of future training
Initial Supervisor Training Programme
Days 1 and 2 took place on 8th & 9th March 2022. 
These are followed by two days provided by the programme with which your service has its primary affiliation.
| | | | |
| --- | --- | --- | --- |
|   | Sheffield | Hull | Leeds |
| Day 3 | 18th May 2022 | 25th May 2022 | 6th May 2022 |
| Day 4 | 24th Nov 2022 | 16th Nov 2022 | 18th Nov 2022 |
Please note, to attend days 3 and 4 you must have attended days 1 and 2.
Materials from ISW 2022 days 1 and 2 can be downloaded below.
Materials from the ISW 2021 days and earlier can be requested from Jacquie Howard (j.a.howard@sheffield.ac.uk).
Advanced Supervisor Training
The responsibility for the Advanced training days is also shared across the Sheffield, Hull and Leeds programmes. Each programme manages a specific training day; supervisors will need to contact the identified course to register for a particular event. 
More info on the 2022 days, as below, can be found here. 
| | | | |
| --- | --- | --- | --- |
| Date: | Title: | Managed by: | Contact: |
| 24th January 2022 | Using Supervision to support therapists to adapt their work for diverse communities and to support minority therapists | Leeds |   |
| 7th February 2022 | An experiential workshop to boost your CBT supervision skills | Leeds |   |
| 27th May 2022 | Compassion Focussed Approaches to Supervision and staff support | Hull |   |
Contact for further information
If you would like to be added to the email distribution list for future dates of supervisor training (both introductory and advanced), or would like a copy of the course materials from recent training events, please email Mrs Jacquie Howard.
For further information about supervisor training, please contact Katherine Hildyard.
Flagship institutes
The University's four flagship institutes bring together our key strengths to tackle global issues, turning interdisciplinary and translational research into real-world solutions.