The Institute of Coding celebrates 1st birthday with The University of Sheffield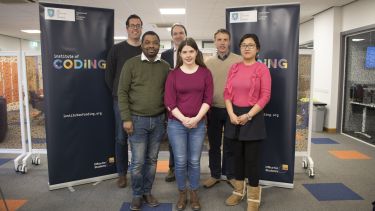 To date a total of 5,875 people enrolled onto courses, with 175 staff members employed across the IoC university network to drive recruitment and take-up of key courses.
Since its formal launch at the House of Lords in June 2018, there have been 35 IoC supported courses created so far, which includes degrees, modules and hackathons. The courses include Data Science MSc at Birkbeck College and the first master's level Digital Degree Apprenticeship at the University of Bath.
As well developing new courses, the IoC have appointed 51 people who represent industry, academia and diversity to sit on various IoC boards and steer the work. An Institute of Coding was also set up in Wales in 2018.
---
The Institute of Coding is dedicated to driving digital skills and widening access to high quality learning to thousands of people from all walks of life. After a year of hard work and determination, we've made huge progress in tackling the skills shortfall, but there is still much more to do. It's vital that industry works closer with the IoC and our academic partners to design and build new courses for graduates and existing employees, spreading opportunity and upskilling workforces across the country.

Rachid Hourizi

Director of the Institute of Coding
---
Under the Future Projects Fund, funded by the Office for Students, the IoC will soon allocate £2.3million to further proposals from industry and academia to help fill the digital skills gap and support the work of the IoC.
Dr Mark Stevenson, Senior Lecturer, commented that "we are delighted to be a founding member of the Institute. The first year has been an exciting opportunity to work with employers in the Sheffield City Region and other members of the Institute of Coding, particularly Aston and Exeter Universities and IBM. Our work has focused on supporting universities who wish to engage with student enterprises based on our existing Genesys model and the development of tools supporting learners who are interested in pursuing a career in the digital sector". Andrew Stratton, Senior University Teacher, said "we are looking forward to the next year, meeting interested parties at the annual IoC conference and are happy to be contacted by business and/or universities interested in student enterprises."
About the Institute of Coding
The Institute of Coding (IoC) is a consortium of universities and employers, with a mission to develop the next generation of digital talent at degree level and above. The IoC will develop higher-level digital skills capabilities among those already in work as well as improve graduate employability.
Its goals include developing specialist skills training in areas of strategic importance, boosting equality and diversity in technology-related education and careers and producing research, analysis and intelligence to anticipate future skills gaps.